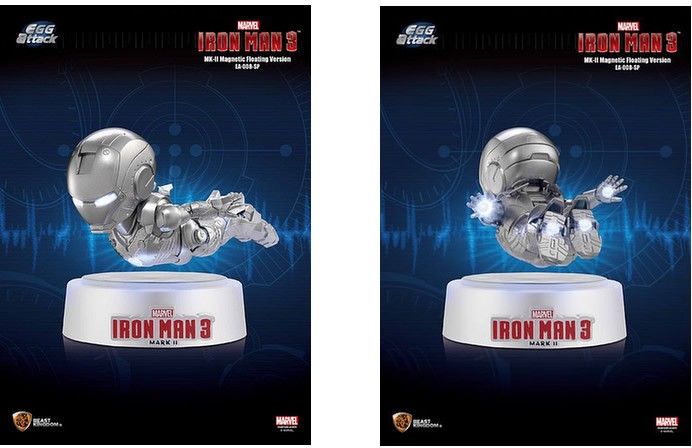 January 30, 2015
Hobby Link Japan's Awesome Iron Man 3 Mark II Figure Actually Floats in Mid-Air
by Shayne Rana
Speaking objectively as a superhero, comic book and toy collecting maniac, Hobby Link Japan's latest creation is, by far, one of the coolest things to ever make it out of their toy chest! And that's really saying something! As superhero designed figures go, Sideshow Collectables, Hot Toys, ArtFX, XM and so many more companies have fantastically accurate depictions of our favorite characters but when they add a little bit of simplistic tech into the mix you get this – the world's first simulation Iron Man 3 Mark II Magnetic Floating figure.

It has 'Awesome' practically craved into it. The little Cold Cast (porcelain-like) figure depicts the suit of armor clad superhero flying and with a flip of a switch that's almost exactly what he'll do. Using electromagnetic attraction and repulsion built right into the base and chest piece of the figure, the Iron Man 3 Mark II will actually rise and hover in mid air. The details on the suit are brilliant and very meticulous. A high-quality metal coating gives the armor its shine and high-luminance LED lights are fitted behind the eyes, palms and feet to add the final flare to the brilliant concept.
Part of the Egg Attack Iron Man Series, this 16cm long, (11cm diameter base) Mark II also comes in a Limited Edition figure that has a dark shiny gun-metal finish as opposed to the Special Edition unit that comes in a light gray finish. The display can be used with 8 AAA batteries or can be plugged into a wall socket.
The levitating Iron Man 3 Mark II figure is available for around $144 and is worth every penny, if you can still get your hands on a piece seeing as it's been sold out since last month.