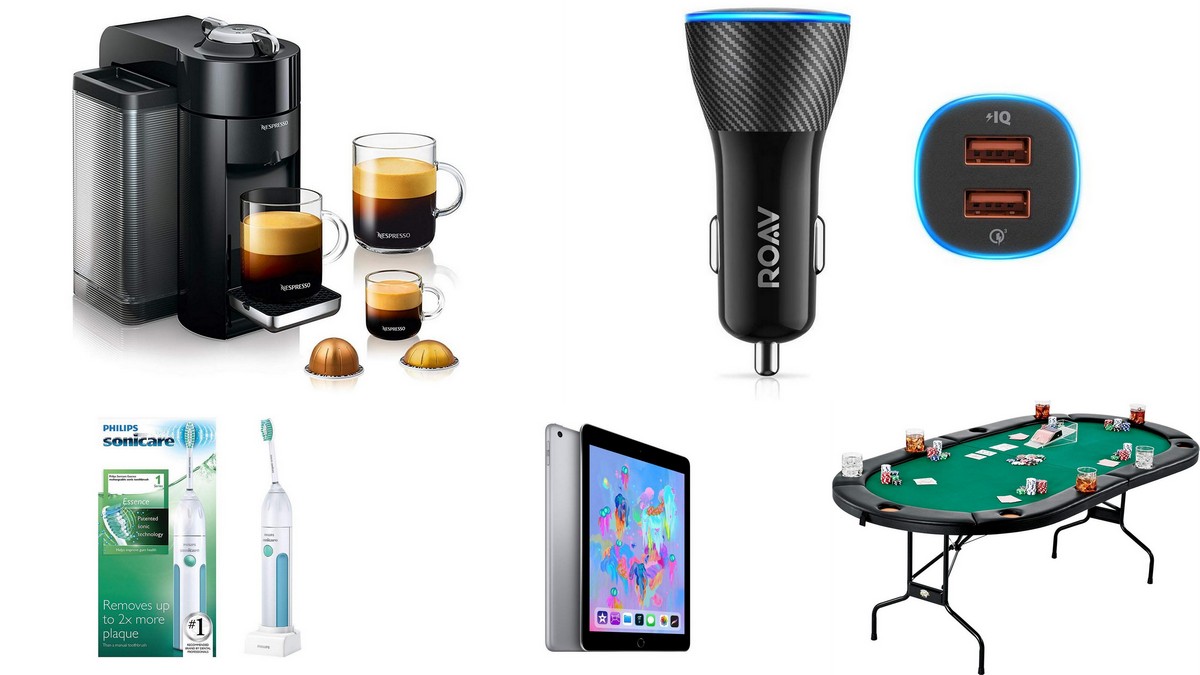 March 30, 2019
Half off FarCry New Dawn, Plus Deals on the 2018 WiFi iPad 9.7 inch and a 10-Person Poker Table!
by Ideaing

Welcome back to our series that will showcase all the best smart home and general tech deals happening right now. Whether you're looking to save some money, or you just want to find the best available price on your most desired tech, we have you covered.

Ideaing always seeks to provide you with the best smart home deals that could give you the most value out of your money. Save hundreds of dollars on smart home items, wearable technologies, travel gadgets, and home decor deals and other home items today. Hurry and browse through today's best deals before the day and deals end!
Get ready to receive the best smart home deals on the internet every day! #SmartHome #Deals

— Ideaing Deals (@IdeaingDeals) April 20, 2016
DEALS OF THE DAY

Still Available: JVC 58-inch 4K Ready Smart TV
Originally $499.99 | Now $349.99
WHY IT'S A STEAL
This is an incredible deal on a 58″ smart TV capable of display 4K UHD quality content.

FarCry New Dawn
Originally $39.99 | Now $19.99
Standard Edition for PS4
Standard Edition for Xbox One
WHY IT'S A STEAL
Half off the latest version in the Far Cry series which takes it to new heights in a stunning yet dangerous post-apocalyptic landscape.

Apple iPad WiFi 32GB in Space Gray (2018)
Originally $329 | Now $249.99
WHY IT'S A STEAL
The latest version of the Apple iPad with 32GB, a 9.7-inch retina display, A10 Fusion chip and up to 10 hours of battery life, all for under $250? Sign us up!
SMART HOME

Nespresso Vertuo Evoluo Coffee and Espresso Machine
Originally $199 | Now $125.99
WHY IT'S A STEAL
Want gourmet coffee but hate leaving your house in the morning to get it? This coffee and espresso machine will quickly become your go-to. It heats up in less than 15 seconds and can hold 54 ounces of water in the reservoir.
SMART BODY

Philips HX5611/01 Sonicare Essence Toothbrush
Originally $49.99 | Now $21.24
WHY IT'S A STEAL
The Philips Sonicare Essence electric toothbrush can remove 2x more plaque than any conventional brush, and includes a built-in timer for accurate, healthy brush cycles.
SMART TRAVEL

Anker Roav SmartCharge Spectrum 30W Car Charger
Originally $19.99 | Now $13.50 w/ Code: ROAVAF2L
WHY IT'S A STEAL
The Anker Roav SmartCharge is a dual-port USB charger for the vehicle that will charges most modern devices quite fast. If you need to charge you mobile while you're out on the open road, this is the way to do it!
SMART ENTERTAINMENT

Fat Cat Folding Poker and Game Table with Cushioned Rail
Originally $359 | Now $179
WHY IT'S A STEAL
This poker table is perfect for game night and will accommodate up to ten people at a time. The cushioned rail offers added comfort but also includes built-in cupholders for all players.
Don't forget to visit the front page of Ideaing for your daily dose of fantastic deals!
Ideaing empowers you to live smarter. Our team researches and recommends only the best smart gadgets, and we may earn a small commission if you buy through our site. Our writers maintain strict editorial independence and integrity. Ideaing is independently owned and the opinions expressed here are our own. Learn more about us.