August 20, 2020
Gigabyte Announces its First Dual Socket AMD EPYC Motherboard – MZ72-HB0
by dhiram
Gigabyte today announced a new high performance motherboard designed for dual AMD EPYC (Rome) processors. The MZ72-HB0 motherboard comes in a standard E-ATX form factor giving it the flexibility for a diverse range of environments. It also caters more towards the 2nd Gen AMD EPYC line of processors because of the addition of PCIe 4.0, which has improved speeds and bandwidth benefiting 100G/200G Ethernet, InfiniBand, NVMe drives, and accelerators.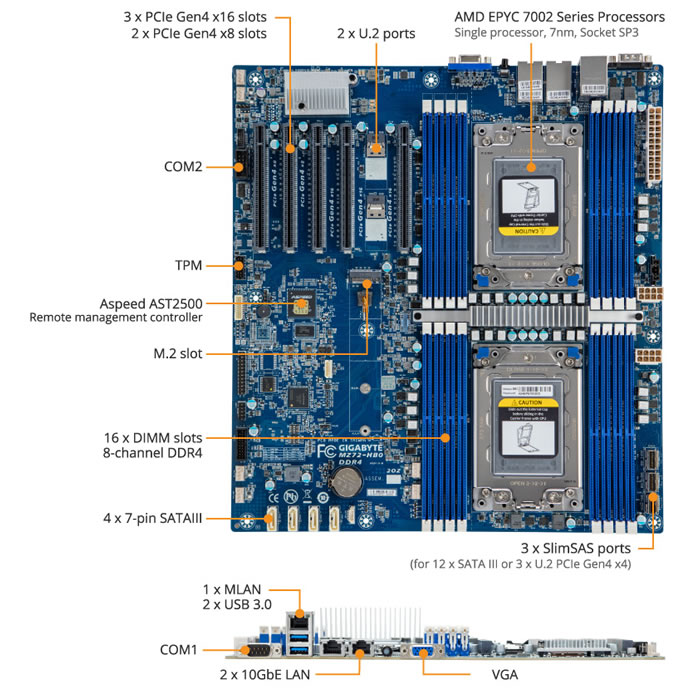 The five PCIe 4.0 slots can be used for GPUs, accelerators, storage devices, or networking. The motherboard can handle a 280W AMD EPYC processor also.  Whether as a professional workstation, system virtualization, media editor, or even a high-density storage server, the MZ72-HB0 is extremely flexible and capable.
With support for dual processors, the first dual socket AMD EPYC motherboard MZ72-HB0 by Gigabyte has 16 DIMM slots, 8 DIMMs per CPU, and support for 8 memory channels. This allows for DDR4-3200 in one DIMM per channel, or DDR4-2933 in two DIMMs per channel, and up to 4TB of memory. GIGABYTE has also included plenty of storage and LAN ports. The storage options: 4 x SATAIII, 2 x SlimSAS for U.2, 3 x SlimSAS for either 12 x SATAIII or 3 x U.2, and 1 x M.2 (@Gen4 x 4). For networking, there is a dual-port 10GbE Broadcom controller, and 1 mLAN port.