January 6, 2015
Garmin Enters the Smartwatch Race with the Vivoactive Making Its Debut at Ces 2015
by Shayne Rana
Garmin is not a newbie when it comes to developing wrist-tech. They've been doing it doing it for quite some time now since the Forerunner series and last year's CES entrant, the Vivofit Fitness Band of fitness trackers (before the tech become so very popular). At this year's CES event the company has taken its Vivo series up a notch and entered the SmartWatch race with the Vivoactive. Designed to take on the likes of the Samsung Gear and the LG G Watch, the Vivoactive comes packed with all the tech deemed necessary and required by today's expectations.

Aside from the now very standard fitness functions (for running, swimming, cycling, Golf etc.), GPS, a heart rate monitor etc. the Vivoactive is just like any other smartwatch available and hooks up to your smartphone to provide more functionality. From providing readability for messages and alarms for calendar appointments, this touchscreen device can also give you weather updates, and a host of other smart notifications. Via the corresponding Garmin Connect IQ app you can also customize the device with downloadable watchfaces, app, widgets etc. With GPS activated, one should get around 10 hours of battery life and it could go as high as up to three weeks in normal watch mode, so the company claims.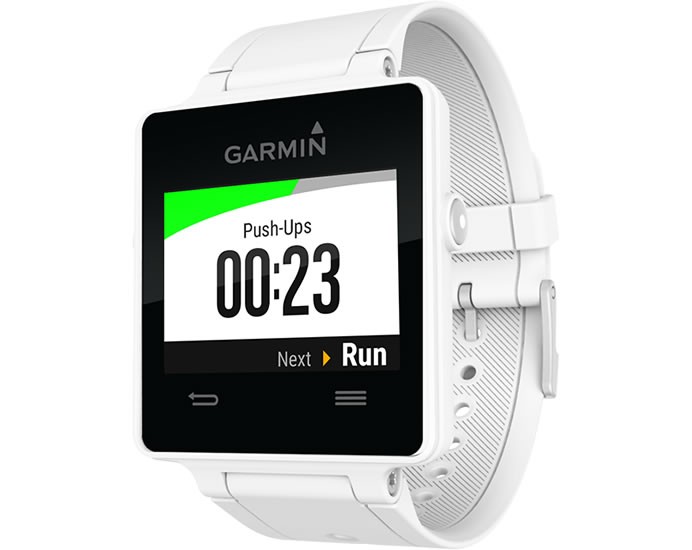 The Vivoactive will be made available sometime in the first quarter of this year for about $250, or $300 (US) with an included heart rate monitor. It also seems quite a bit slimmer as compared to some of the current devices available right now.