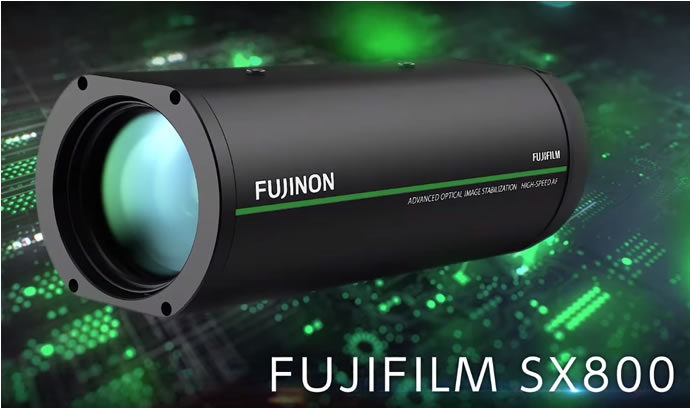 July 23, 2019
Fuji's latest surveillance camera can capture a car registration plate from up to a kilometre away
by dhiram

Fujifilm today announced a new long-range surveillance camera SX800equipped with built-in lens. The new long-range surveillance camera SX800 features a high-performance built-in FUJINON zoom lens, capable of 40x optical zoom to offer a focal length range extending to 800mm, the world's longest telephoto coverage. The built-in FUJINON zoom lens is applied with multi-layer coating to support a wide range of wavelengths from visible lights to near infrared rays. This has boosted light transmittance to the ultimate level to effectively control lens flair and ghosting. The use of high-performance image sensor and cutting-edge image processing technology achieves clear images with minimal noise even in low light conditions with high sensitivity settings.



The SX800 is a long-range surveillance camera with 40x optical zoom to cover the focal length range from 20mm to 800mm. When combined with the digital zoom of up to 1.25x, the camera can reach the focal length equivalent to 1000mm in long-range surveillance. This means it can capture the vehicle registration plate on a car at about 1km away. Fujifilm's proprietary image stabilization mechanism accurately controls camera shake without any time lag.


The use of the Rear Focus mechanism and other features delivers high-speed and high-accuracy AF, attaining focus in as fast as 0.3 second. The camera's high-speed image processing engine achieves detection and real-time correction of heat haze and fog.The SX800 has been designed and assembled with a lens integrated into the camera body so as to bring out the maximum performance from both components. This has eliminated the need for the conventionally-required steps of adjusting optical axis and flange focal length, thereby simplifying installation procedures substantially.


The SX800's aluminum extrusion body is highly rigid and exceptionally robust. A carrying handle (sold separately) may be attached to the body, using screw holes at the top, for transporting convenience. These features makes Fujifilm SX800 long range surveillance camera model an ideal choice for conducting surveillance operations at national borders, forests and large-scale public facilities including ports, airports and highways.