December 11, 2010
From Sweden with Love: Inside the Assange Lair
by Shalu Pillai

As whistleblower Julian Assange continues to make headlines, one thing that cannot go unnoticed is the air of mystery surrounding him. In true flamboyant style, he seems to be doing his best to impersonate a James Bond villain. This has become more so evident if we take a sneak peek into the infamous Pionen data centre, 100ft below ground in a former Cold War nuclear bunker, where all the WikiLeaks files are being kept. The center has all the makings of a 007, movie with its high-security computer storage facility, Submarine engines used as emergency generators or even a 'floating' conference room.

The vast cave, drilled into granite under the Vita Berg Park in Stockholm, houses dozens of computer servers used as storage by many companies. Complete with suspended glass corridors, lunar landscape flooring, designer furniture, and even, intriguingly, German U-boat engines as back-up generators at the Bahnhof internet service provider, in Stockholm, Sweden, this nuclear-bomb-proof-bunker seems inspired by Bond villain Hugo Drax, from the 1979 film Moonraker.
The disused bunker was reopened in 2008 with its futuristic design the brainchild of Swedish architects Albert France-Lanord, who were inspired by Bond sets created by Sir Kenneth Adams. The brutalist design is softened by plants kept alive by brilliant solar lighting and artificial waterfalls.
While on the run from Swedish and American authorities, Assange has had to use this secure base for his files. The cost of the storage is unknown, but will be very little, because although Assange's teams have released several million documents, in data terms this is not a large amount. Everything WikiLeaks has in its possession could probably be stored on a high-capacity memory stick.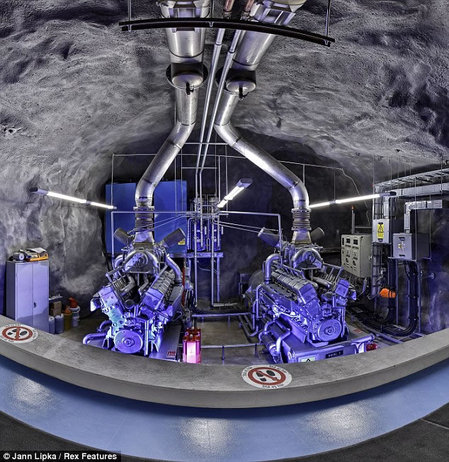 [DailyMail]