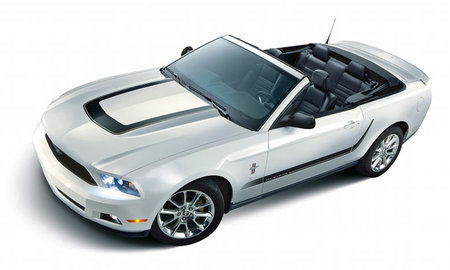 June 27, 2011
Ford's Limited Edition Mustang V6 Sport Appearance is for Japan only!
by madhulika
Special editions to the iconic Mustang are not new, what's new however is Ford making a special set to be sold in one country only. What's the difference? You may ask Well besides the colour and a few extras, really nothing. Produced in the limited run of 25 pieces, in both coupe and convertible body style, the Mustang V6 Sport Appearance Special Edition comes with a choice of two colors, "Performance White" or the 70's style "Grabber Blue", both with special pin stripes on the sides. There's a bonnet bump; a rear boot lid spoiler and 18-inch chromed alloy wheels wrapped around chunky 235/50 R18 tires, and Ford added leather seats on the inside. So if you are looking to add on to your Mustang breed, we suggest head to Japan, and quick. And yes, don't forget the cash: for the coupe comes at a hefty 4.35 million Yen (approx US$54,250) and the soft-top Convertible 5.05 million Yen (that's easily US$63,000).


Phew, that's a lot of horse power.


[Carscoop]