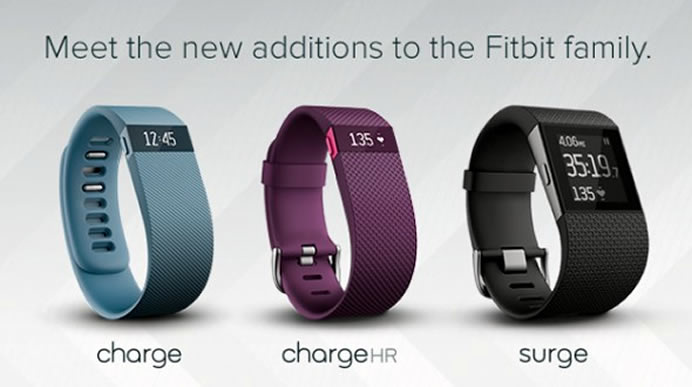 October 28, 2014
Fitbit announces three new activity trackers, Surge – a smartwatch and two smartbands
by Shruti Shree
Fitbit, the leader in the Connected Health and Fitness industry, has launched three wearable tech products – Fitibit Surge, Fitbit Charge and Fitbit Charge HR. Like all other fitness bands, these will keep a track of your activity like number of floors climbed or the daily steps walked. But, each new product has some new special feature, let us take a look at each one of them

Fitbit Surge – Forget smartbands, now they have a dedicated smartwatch just for fitness. Surge has all the regular features of a regular Fitbit Smartband such as 3-axis accelerometer, gyroscope, compass, light sensor; it also has in built GPS to precisely track the distance covered and the elevation. Surge also has a heart rate monitor and remote music controls for your smartphone. Not that we need to mention, but you can receive calls and text messages too. Surge also has three buttons with more menus and advanced settings. Surge will be available for purchase by 2015 and will be priced at $250.
Fitbit Charge – In Fitbit Charge, the sleep tracking feature is now improvised and automatic, no more clicking buttons before sleeping and after waking up. Wireless connectivity with the smartphone is also possible to receive a call. And the best thing is battery; one charge gives a life of up to seven days! Charge can be ordered right now for a sum of $129.95
Fitbit Charge HR – Fitbit charge HR has an OLED screen, it's a bit more advanced than Charge as it has an optical heart rate monitor called PurePulse which reads heart rate every second which in turn gives very accurate calorie burn estimates. Charge HR is a good smartband for activities like spinning and yoga. It is priced at $149.95 and like Surge it will be out by 2015.