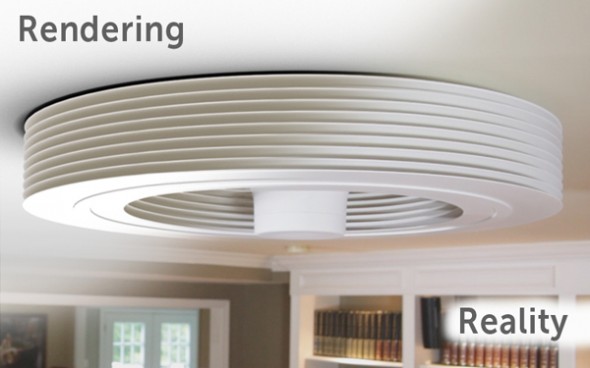 November 12, 2012
Exhale, the bladeless ceiling fan that creates a vortex in your living room!
by Gavril Mankoo
Ceiling fans are an eye-sore, particularly in minimal homes. Well, if the traditional three-winged fan isn't the most eye-catching way to keep you cool when your air-conditioning is hibernating, this new concept we've stumbled across recently could indeed be the perfect addition to your living space! Called the Exhale, this bladeless laminar vortex cyclonic homogenizing ceiling fan is based on designs by Tesla and creates a vortex of sorts at home!


The fan uses a stack of rapidly spinning discs that suck in air and diverting it out from its sides using the idea of laminar flow. This causes the air in the entire room to mix, making this fan more efficient than a conventional ceiling fan. Also, the Exhale is quieter and looks futuristic too, complementing your minimal home perfectly!
[Dvice]