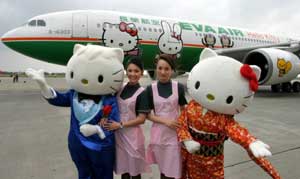 October 24, 2005
EVA Teams With Sanrio to Unveil World's 1st Hello Kitty Jet
by Dhiram Shah
Embracing the creativity and innovation encouraged by its corporate culture, EVA Air has teamed up with Sanrio Company, Ltd. to unveil the world's first "Hello Kitty Jet." On the right side of the aircraft, identified with "Hello Kitty EVA Air," Kitty and her friends greet passengers with welcoming smiles. Daniel Star, his aviator glasses perched on his forehead, stands nearest the cockpit with Kitty by his side. Tim and Tammy, the mischievous monkeys, sit over the wing. Joy, the blue mouse, is poised on the engine. And Mimmy White, Kitty's sister, joins parents Mary and George White, near the back of the aircraft. On the left of the aircraft under "EVA Air Hello Kitty," Kitty stands nearest the cockpit beside her friend Kathy, the white rabbit. Rory, the yellow squirrel, frolics on the engine. Tim and Tammy and Kitty's family are featured in the same positions as on the other side of the aircraft. EVA repeated the livery theme inside the cabin by creating a Hello Kitty fantasy with sweet Hello Kitty paintings on the walls, and by outfitting flight attendants with Hello Kitty ribbons for their hair and Hello Kitty aprons. Passengers booked on EVA's Hello Kitty Jet will get pink Hello Kitty boarding passes and luggage tags.


Onboard, they will enjoy a series of inflight Hello Kitty service accessories, Hello Kitty meals, and have access to exclusive EVA Air Hello Kitty duty-free shopping.
The aircraft hangar where the festive event was staged was decorated to represent the wonderful world of Hello Kitty make believe, and Hello Kitty family and friends entertained guests with special appearances and dances.
EVA Air's special Hello Kitty Jet will fly to Fukuoka every day, starting on Oct. 22. To meet anticipated demand and serve passengers' requirements, EVA is working with travel agents to design special Hello Kitty tour packages featuring visits to Harmony Land, the make-believe world where Hello Kitty and her friends live, and where fans are bound to want to go.