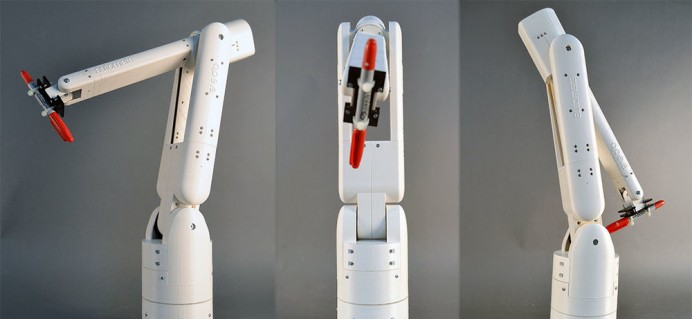 July 28, 2015
Eva robotic arm reminds us of Pixar's Luxo Jr.
by Gareth Mankoo

Remember that jumpy little lamp from the Pixar intro animation? Well, it may have been CGI back then but what we have here is for real. Called Eva (may be after the Wall-E robot?), this robotic arm is light in weight, costs phenomenally lesser than most contemporaries and is also easier to program. The arm weighs under 2.5 kilograms and can be easily deployed in a number of environments. When it comes to precision, it can deliver at an accuracy of up to 1 mm, which is quite impressive given that it isn't exactly a high-end machine. What's also interesting is that nearly 80% of Eva is 3D-printed, which includes the shell and some mechanical parts.


Eva can be controlled with a smartphone app, choreoGraph, which makes it very easy to program and setup for use. The best part is the simplicity, where you do not necessarily require code to enable learning. A few manual guides will tell Eva just what you expect of her.
[Via – Getautomata]