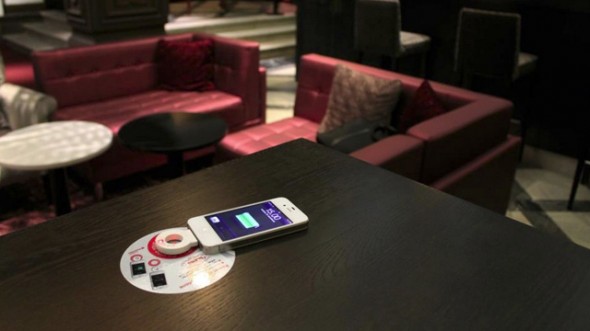 March 4, 2013
Euro Mc Donald's to bring wireless charging using Powerkiss
by Sayan Chakravarty
Mc Donald's is the latest fast food chain in Europe which is testing Qi-based wireless charging technology. A company called Powerkiss is helping Mc D's in select locations to test the technology. Powerkiss recharging technology is already being widely used all over Europe and a few locations around the world. The Powerkiss pad will be embedded into the tables hidden from the customers. Though compatibility might be an issue but the company makes power rings with 2mm jacks for Nokia and Microusb for other phones. Placing the Mobile phone with the ring on the table will automatically start charging it.


Though the technology is in its nascent stage but Europe, Japan and South Korea are already using the technology quite extensively. Major growth is coming soon for the wireless charging market, according to market research firm iSuppli. The company has predicted a 65-fold increase in the overall market in the next few years, and has estimated that more than 230 million electronic devices with wireless charging functionality will ship in 2014. Wireless Power Consortium is an organization consisting of more than 100 companies which is developing the Open Inductive Charging Standard, more commonly known as Qi.

At the moment there are around 3000 Qi public charging points situated in approximately 500 locations across Japan itself, including coffee shops and airport lounges. US market is still largely untapped, but companies like Duracell and Energizer are trying to exploit the possibilities. Duracell introduced Powermat in 2012 but it's only available in selected locations across New York. Madison Square Garden and Jay-Z's club 40/40 are few names using their technology currently.
Free wireless charging hotspots is a great way to attract customers in this hugely competitive market and might become an industry standard soon in the future.
[Phonearena and Gizmodo UK]