January 28, 2015
Enter NEEO the Final Name in Universal Remote Controls, the One Remote to Rule Them All
by Shayne Rana
Wire-free homes with all kinds of connected devices are the wave of the future and very much in trend even today. But one of the biggest pains dealing with all things wireless is the requirement of a remote and having multiple can get very confusing and frustrating. Universal remotes are getting more popular, so developers like the one who are "Kickstarting" the NEEO, designed to be a one-stop-shop for all your remote-ing needs, are venturing further ahead of the curve and developed what they call a smart system remote control.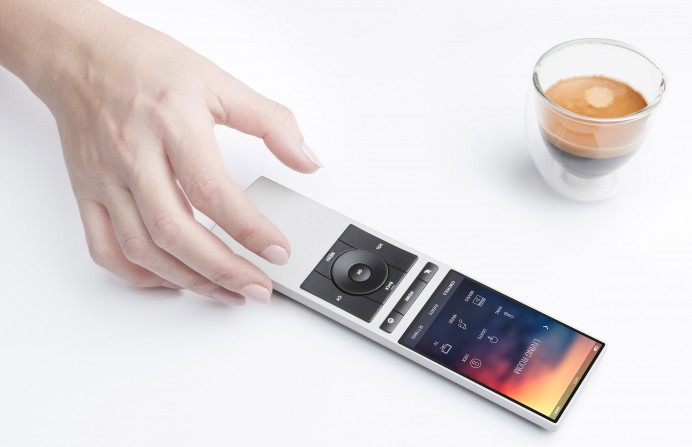 NEEO features a display that has a 291 ppi that is actually more pixels per inch when compared to Apple's Retina display iPad. It's not a complicated system that features multiple "apps" or software; instead all of the functions are neatly condensed into a single space. Encased in aluminum the NEEO is fully compatible with pretty much all remote driven devices that made it out in the last decade. That covers an array of over 30,000 devices from Smart TVs to STBs, Apple TV, devices that use Bluetooth 4.0, Thread, Z-Wave protocols and much more. Essentially it's the Grand Master of all remotes. The tactile buttons are a welcome in this day and age of touchscreen devices that can get a little overwhelming at times. The simple button system is reminiscent of the good old days.
A unique feature is the NEEO's ability to 'read palms', as it were. It's an intuitive function that learns the user's habits and recognizes their palm's placement on the device. This will help the system differentiate between a child's hand and a grownup's thereby limit functionality depending on who's using it. For those who tend to lose remotes around the house frequently, a compatible smartphone app will activate an audible signal so the remote can call out to you for assistance.
The NEEO universal remote control system will be making it out sometime in March since the fully funded Kickstarter campaign has seen success. Early supports will also get the option of choosing between the White Rabbit and Black Cat color editions.