January 6, 2015
Enter the Gogoro Smartscooter, a slick new electric two-wheeler powered by a swappable NFC enabled battery pack
by Shayne Rana
New armor has been forged in the battle against urban pollution and its name is the Gogoro Smartscooter. So perhaps an electric scooter isn't such a big deal these days seeing as electric cars, Hybrids and even electric bikes are already available, but these guys who started off from a kickstarter campaign and made their way to CES 2015, seem to have a winner on their hands. Together with their city-wide charging station infrastructure, Gogoro Energy Network, that essentially houses a range of battery packs to be swapped when required all over the city, the Gogoro Smartscooter aims at offering users a slightly better experience as compared to some others, especially when it comes to your bank account. The latter is yet to be decided.

Developed by two sterling gentlemen namely one Horace Luke and one Matt Taylor, together with Panasonic, the Gogoro Smartscooter comes equipped with an NFC-enabled interchangeable battery pack that can be swapped out at a recharge hub. So what we're looking at here is not just a scooter that runs on a battery, but a corresponding "ecosystem" for it to run smoothly. Each battery pack contains enough power to run between 30-60 miles depending on how you ride it. The idea is for a GoStation (battery hubs) to be made available within a square mile of its neighbor in locations like gas stations, parking lots, convenience stores, possibly office buildings et al. Presumably you'd also be able to set up a charging hub at your home. One simply needs to buy the smartscooter and a subscription for unlimited access to battery swaps and roadside assistance. It's that simple. One could also book/reserve a battery at a hub in advance. It takes about 6 seconds (claimed) to swap and each pack would charge up in about 1-1.5 hours.
Naturally, being a 'smart'scooter with NFC capabilities, it's fully compatible with your smartphone. So obviously there's a Gogoro iQ System that fully integrates all kinds of connectivity (via low-power Bluetooth) with your smartphone providing a means of security (unlocking, ignition etc) and functionality and leveraging of the variety of sensors the scooter is equipped with. The app would not only provide users with the locations for GoStations but also give you read-outs of the scooters functions and performance. It also enables riders to make adjustments and customizations to the scooter which include customizing the digital dashboard.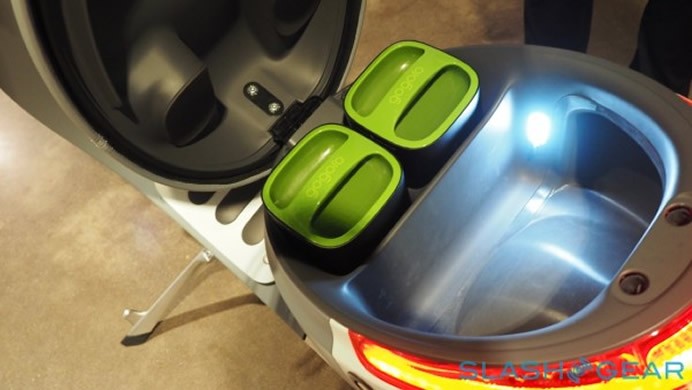 The "G1" motor is capable of pushing the scooter up to a max speed of around 30 mph. The motor is fluid cooled and puts out 8.58 HP and 18 lb-ft of torque. That seems just about perfect for urban life. The Gogoro Smartscooter uses LED lighting for all purposes and even has a function that automatically shuts it off when the Kickstand is used. It also comes with a USB charging port and enough space for a large helmet under the seat.
All said and done this is all neatly packaged into one slick looking scooter, and although pricing is yet to be disclosed, I don't mind waiting in line for one.