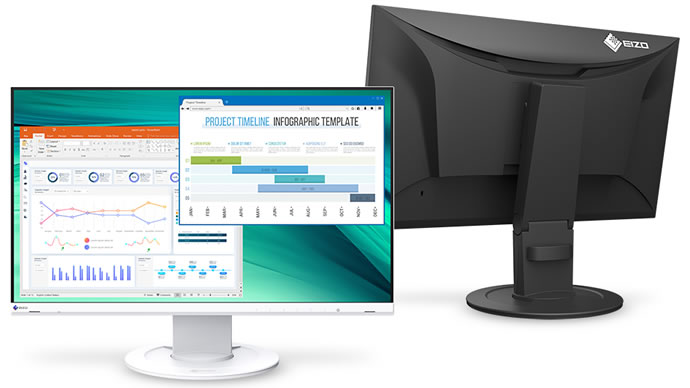 January 10, 2020
EIZO Releases Frameless 23.8-inch and 22.5-inch LCD Monitors for Business Environments
by dhiram
EIZO today announced the release of the 23.8-inch FlexScan EV2460 and 22.5-inch FlexScan EV2360 – two LCD monitors with a frameless design for business environments. The two LCD monitors feature environmental-friendly specifications to aid companies in achieving their sustainable development goals, which are becoming more recognized worldwide. The FlexScan EV2460 is the successor model to the FlexScan EV2450 and uses a 23.8-inch LCD panel with 1920 x 1080 native resolution. The FlexScan EV2360 uses a 22.5-inch LCD panel – the smallest amongst EIZO's frameless models.
The small-footprint EV2360 has a width of 499 mm and a large native resolution of 1920 x 1200. Both monitors implement LED-backlit IPS (in-plane switching) panel technology with 178° wide viewing angles. As part of its efforts to maintain environmentally responsible manufacturing, EIZO developed the monitors without flame retardant in the plastic body to improve recyclability. EIZO also uses recyclable packing material for the boxes the monitors are shipped in.
EcoView Optimizer 2 saves power by fine-tuning the balance between brightness and gain according to the content displayed on the screen. Auto EcoView automatically adjusts the screen's brightness in accordance with changes in the ambient brightness to trim power usage while reducing eye fatigue. With these technologies, typical power consumption is reduced to as little as 10 watts (EV2460) and 11 watts (EV2360) – up to 40% less compared to display at maximum brightness.
Both monitors are certified by worldwide comprehensive sustainability certifications such as TCO Certified Generation 8 and EnergyStar. The FlexScan EV2460 and EV2360 are equipped with four and two USB 3.1 Type-A ports respectively. This allows users to conveniently connect devices, such as a mouse, keyboard, or headset, directly to the monitor rather than the PC. The latest version of EIZO's proprietary software Screen InStyle allows users to save individual settings that are reflected automatically in the connected monitor.