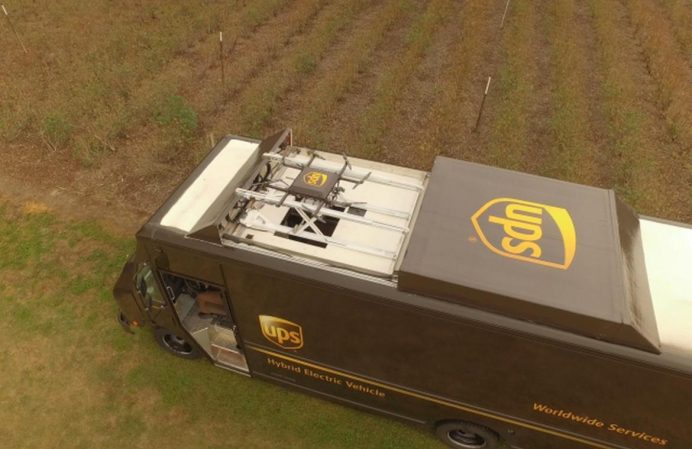 February 23, 2017
Drone delivery tested successfully by UPS to keep up with booming E-Commerce market
by Shilpa Chatterjee

UPS has completed the successful testing (conducted with Ohio-based Workhorse Group, electric truck and drone developer) of a drone that can launch from a package vehicle and autonomously deliver packages to homes before going back to the truck. The latter, at the same time, stays en route to several different delivery locations. Being completely autonomous, the drone doesn't need a pilot.

The final objective of this test is to match pace with the booming online purchase market by allowing UPS drivers to become more competent in goods delivery and satisfy dynamic customer service needs. Even one such delivery made by these drones not only brings down expensive driven miles, but is also a giant leap towards reducing emissions significantly.
The test leveraged Workhorse's HorseFly UAV delivery system, a highly efficient octocopter delivery drone fully integrated with the company's line of hybrid/electric delivery trucks. Perched on a docking station on the truck, the package loaded by the driver from within the vehicle, is automatically delivered at the touch of a button. Half an hour is the maximum flight time and up to 10 pounds can be carried easily.
Although rural delivery routes are expensive to serve due to the time and vehicle expenses involved, this UPS test conducted in Lithia, Florida, seems excellent for rural deliveries. Validating the same, Mark Wallace, UPS Senior VP, Global Engineering and Sustainability, said, "It has implications for future deliveries, especially in rural locations where our package cars often have to travel miles to make a single delivery."
The positive financial implications are huge too. A reduction of one mile per driver each day over a period of twelve months, could save up to USD 50 million for the company. In this test, the driver continued making a delivery while the drone simultaneously made another. UPS has roughly 66,000 delivery drivers on the road every day, so you can do the math.
Workhorse Founder and CEO, Stephen Burns, expressed his happiness in seeing such intelligent and practical application of the concerned technology.
[Via:Wwd]