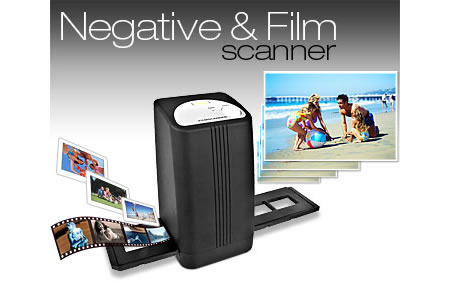 February 18, 2008
Digital Film Scanner scans negatives and films
by yogesh

Its great to know that the bunch of old negatives that you had from the pre-digital era can now be converted to digital images with the Digital Film Scanner. The kit takes in both negatives and slides, and at the press of the 'Copy' button will scan your images with its 5-MegaPixel SMOS sensor, and save them as either Tiff or Jpeg files on your PC. The kit includes software for editing, cropping and re-sizing your images. A neat way to preserve those old pictures from yesteryears. Roll over for the key features and pricing.

The Digital Film Scanner comes for $162. Here are the key features:
– A film scanner to digitise your old 35mm film negatives or mounted slides.
– Your old slides/negatives are converted to jpegs on your PC.
– Scans both monochrome and colour images. 3600 dpi image enhancement.
– A 5MP SMOS sensor with 10 bits per colour channel.
– 2 clip-together holders- one that holds a strip of six negatives and the other holds three slides.
– A CD of software.
– A 'Copy' button.
– Simply pass the holder through the film scanner and press the 'Copy' button to digitise the images.
– Once your images are digitised you can tweak them using computer programs such as Photoshop.
– Twain drivers are included for Photoshop use.
– Software to edit, crop and resize your images is included.
– Suitable for ages 14 years+.
– Requires Windows XP.
– Requires a USB cable (included) and USB port.
– Size: 17 x 8 x 8cm.