March 15, 2019
deals of the day
by Ideaing

Welcome back to our series that will showcase all the best smart home and general tech deals happening right now. Whether you're looking to save some money, or you just want to find the best available price on your most desired tech, we have you covered.

Ideaing always seeks to provide you with the best smart home deals that could give you the most value out of your money. Save hundreds of dollars on smart home items, wearable technologies, travel gadgets, and home decor deals and other home items today. Hurry and browse through today's best deals before the day and deals end!
Get ready to receive the best smart home deals on the internet every day! #SmartHome #Deals

— Ideaing Deals (@IdeaingDeals) April 20, 2016

Sony (DPT-RP1/B) 13" Digital Paper Tablet with 16GB
Originally $699.99 | Now $599.99
WHY IT'S A STEAL
The Sony (DPT-RP1/B) 13" Digital Paper Tablet with 16GB is the "world's thinnest" paper-like tablet for notes and sketching. The capacitive touchscreen is accommodating for stylus and pencil-like tools. The screen is high-contrast and has no glare so you can use it anywhere, even outside.

BrewArt BeerDroid Fully Automated Beer Brewing System
Originally $799 | Now $498.99
WHY IT'S A STEAL
The BeerDroid is a smart, automated brewing system for home use. You can brew up to 2.6 gallons of premium quality beer with the push of a button. It's all WiFi connected too so you can check-in using your mobile device or take control remotely.

Dohiker 27W Foldable Solar Charger with 3 USB Ports
Originally $69.99 | Now $34.99 w/ code: A27FO8DV
WHY IT'S A STEAL
This splash-proof solar charger can be used to power up three USB devices at a time all via solar energy. It's great for travel, it's great for home use, heck it's great anywhere!
SMART HOME

EYUGLE Self Charging Robot Vacuum Cleaner
Originally $119.99 | Now $59.99 w/ Code: 9WLTMGEZ
WHY IT'S A STEAL
That's one of the cheapest prices we've seen for any robot vacuum cleaner, but it's also the best price ever offered for this particular model. It comes with a remote to send out commands, but will also automatically return to its dock to charge when the battery is low.
SMART BODY

Withings/Nokia | Sleep Tracking Pad
Originally $99.99 | Now $79.97
WHY IT'S A STEAL
This smart tracker is meant to slip underneath your mattress where it will track sleeping habits, heart rate and more. A recent update even allows it to identify common sleep apnea symptoms.
SMART TRAVEL

Oscaurt Anti-Theft Travel Backpack
Originally $69.99 | Now $31.99
WHY IT'S A STEAL
This backpack includes a hidden compartment, high-quality EVA material and reflective strip — which shines at night. It also includes a built-in USB power pack with charger to keep devices powered up on-the-go.
SMART ENTERTAINMENT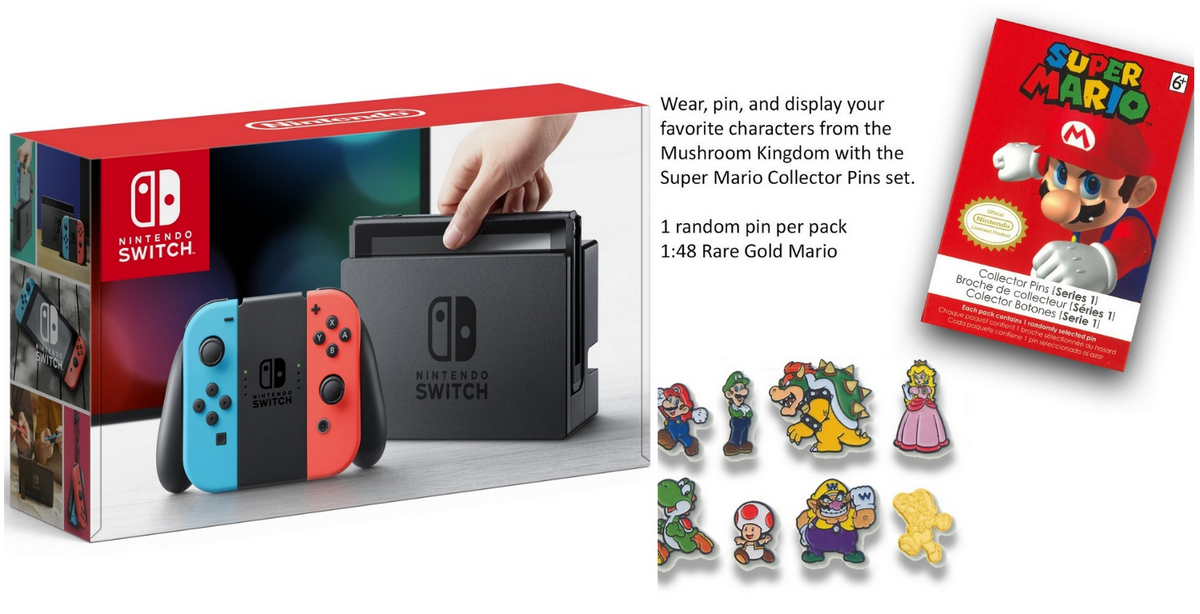 Nintendo Switch Bundle with Mario Game of Your Choice
Originally $363.37 | Now $329.99
WHY IT'S A STEAL
STILL AVAILABLE: This bundle includes a Nintendo Switch — your choice of either neon red and blue or grey — and a Mario game, of which several you have to choose from. Pick your console, pick your game, what more could you ask for? And it also includes a Mario-themed collector's pin!
Don't forget to visit the front page of Ideaing for your daily dose of fantastic deals!
Ideaing empowers you to live smarter. Our team researches and recommends only the best smart gadgets, and we may earn a small commission if you buy through our site. Our writers maintain strict editorial independence and integrity. Ideaing is independently owned and the opinions expressed here are our own. Learn more about us.