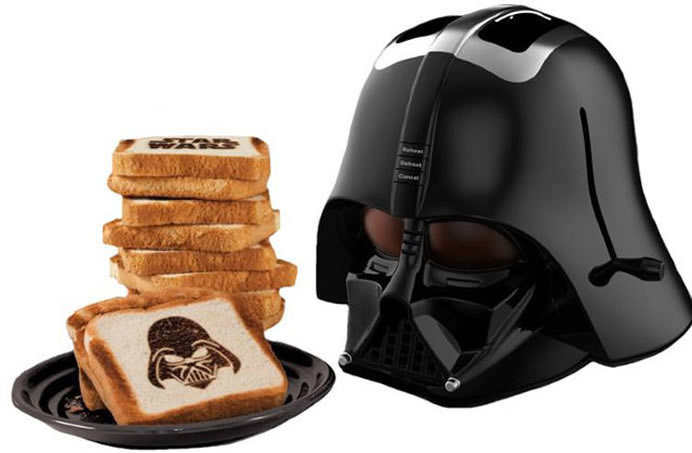 April 7, 2014
May the toast be with you! This Darth Vader Toaster brings over regular bread to the dark side
by Gavril Mankoo
"I sense great fear in you, Skywalker. You have hate. You have anger. But you don't have toast."
You probably might have not known this, but dear dark Darth Vader did say this to Luke once over breakfast. Here's why. The BigBadToyStore offers a Darth Vader Toaster good enough to make Luke Skywalker go green with jealousy. Available at just $45 a piece, a price most Star Wars fans wouldn't mind shelling out, the toaster literally toasts an image of Vader's head on a slice of bread, enabling the humble bread to have a dark side.

The other side of the bread popped into one of these will sport the Star Wars logo toasted into it. Besides the fact that this toaster turns every slice of bread into Star Wars memorabilia, it's also shaped like Vader's head, making it ever more drool-worthy and somewhat startling. Apart from the fact that the Darth Vader Toaster promises to give you deliciously crisp slices of bread every morning, it does sport a couple of features that we deem unnecessary, like a reheat button. We've never really felt the need to reheat toast, which is why we feel this feature's quite useless. Instead, we'd rather have a button that enables the toaster to mutter dialogues from the franchise, with Darth Vader's voice and all!