August 20, 2019
CORSAIR Launches K57 RGB Wireless Gaming Keyboard
by dhiram

Corsair today announced the launch of its first gaming keyboard the K57 RGB Wireless. The K57 RGB Wireless Gaming Keyboard boasts both incredibly bright, stunning per-key RGB LED lighting and the convenience of a hyper-fast, ultra-stable wireless connection. Equipped with blazingly fast SLIPSTREAM WIRELESS technology and brilliant CAPELLIX LEDs, the K57 RGB Wireless merges vivid RGB lighting with wireless freedom, offering the best of both worlds to PC gamers.



The K57 RGB Wireless is lit up by vivid per-key dynamic RGB backlighting, without sacrificing performance thanks to its CAPELLIX RGB LEDs. CAPELLIX LEDs shine up to 60% brighter and are up to 60% more efficient than conventional LEDs, giving the K57 RGB Wireless a long-lasting battery life of up to 35 hours on a single charge even with RGB lighting enabled.


The Corsair K57 RGB Wireless keyboard is the first Corsair keyboard to take advantage of lightning-fast SLIPSTREAM WIRELESS technology. Boasting an incredibly low sub-1ms wireless latency and up to 33ft of range, the K57 RGB Wireless lets you play your own way, whether from your desk, couch, or beyond. The K57 RGB Wireless also offers additional connections to PC via USB wired or low-latency Bluetooth, giving the flexibility to connect to a multitude of devices including mobile devices and smart TVs.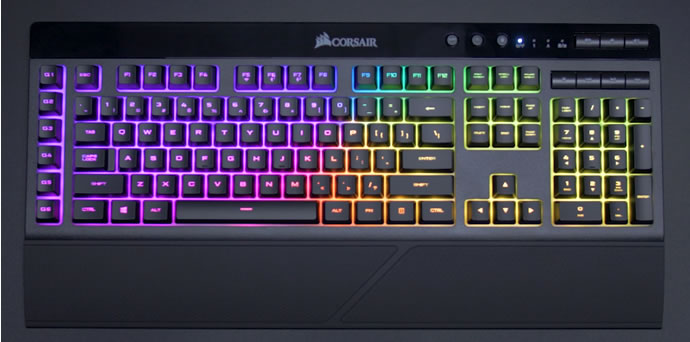 The six programmable macro keys give you an in-game advantage with powerful macros and key remaps, while dedicated volume and media controls let you control your audio without interrupting your game. A detachable palm rest provides comfort. The K57 RGB Wireless is backed by a two-year warranty and is available from Corsair.