July 31, 2019
Corsair Launches CORSAIR 220T RGB Airflow Smart Case and iCUE SP RGB PRO Fans
by dhiram

Corsair today announced the new iCUE 220T RGB Airflow Smart Case and iCUE SP RGB PRO range of 120mm and 140mm RGB cooling fans, enabling vibrant RGB lighting and strong cooling performance out-of-the-box with full iCUE software integration. Meticulously designed for powerful and efficient cooling, the Corsair iCUE 220T RGB Airflow sports a distinctive removable steel front panel allowing for high airflow into the case, and an internal layout that directs that cool air to your PC's hottest components. The Corsair iCUE 220T RGB Airflow is available in either black or white. The 220T RGB Airflow and SP RGB PRO fans are backed by a two-year warranty.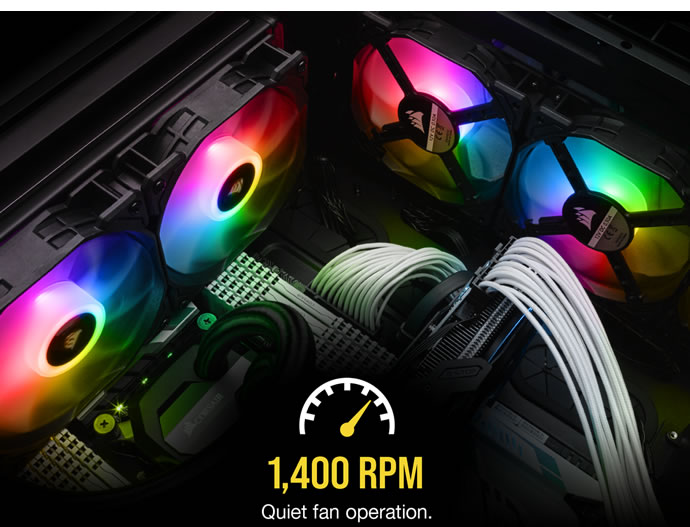 The 220T RGB Airflow houses your system behind a single edge-to-edge tempered glass side panel to showcase your PC's high-profile components and full-scale light shows. Its flexible storage options let you install up to four drives, including two 2.5in trays and two trays in a removable cage that can accommodate additional 3.5in or 2.5in drives. A full-length PSU cover hides the power supply and cables, while removable dust filters in the floor, roof, and front of the case help keep your system clean, making it easy to build and maintain a great, professional-looking PC.

Behind the steel front panel are three included SP120 RGB PRO fans, cooling your system down while lighting it up with eight individually addressable RGB LEDs per fan, for a total of 24. SP120 RGB PRO fans provide high airflow and static pressure along with their stunning lighting, optimized for low-noise operation with a maximum speed of 1,400 RPM. The 220T RGB Airflow offers the potential for even more cooling with ample room for up to 6x 120mm fans, up to 4x 140mm fans, or multiple radiators in sizes up to 360mm. Corsair iCUE SP RGB PRO fans are sold separately, available in packs of 3x 120mm, 1x 120mm, 2x 140mm, and 1x 140mm.