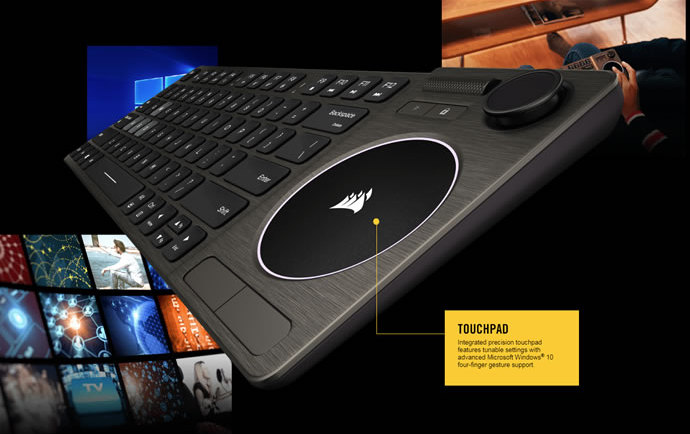 March 8, 2019
Corsair Announces K83 Wireless Entertainment Keyboard
by dhiram

The new Corsair K83 Wireless Entertainment Keyboard brings unprecedented control and versatility to living room PCs and home entertainment setups. Alongside its stylish anodized aluminum frame and white LED backlit custom Corsair ultra-low profile key switches, the K83 boasts an intuitive key layout that puts all the entertainment essentials within easy reach, whether you're searching for the next episode, controlling playback, or exploring the latest game. Its contoured keycaps help your fingers settle in comfortably with a host of media shortcuts and hotkeys.



The K83 Wireless includes a wealth of ways to browse content or even play games casually from the couch. An analogue joystick makes easy work of menus and content browsing and plays games like a gamepad when combined with the familiar WASD keys. A precision multi-touch touchpad and dedicated right/left click buttons to make mouse cursor movement and clicks easy, with separate left and right click buttons also found on the keyboard's shoulders.


Corsair's proprietary wireless technology connects to USB-compatible devices for easy setup and ultra-fast 1ms 2.4 GHz wireless speeds, using 128-bit AES wireless encryption to protect your personal data. The addition of low-latency Bluetooth wireless offers further flexibility to quickly connect to even more devices without a USB port. A USB-rechargeable battery powers the K83 Wireless, providing up to 40 hours of continuous use.


Merging refined style and aluminum construction with advanced navigation and flexible control over a range of multiple devices, including smart TVs and streaming media players, the K83 Wireless is the centerpiece of any modern living room entertainment center. With the ability to control PC's, compatible smart TV's, streaming media players and more, the K83 Wireless Entertainment Keyboard lets you take command of your living room entertainment like never before