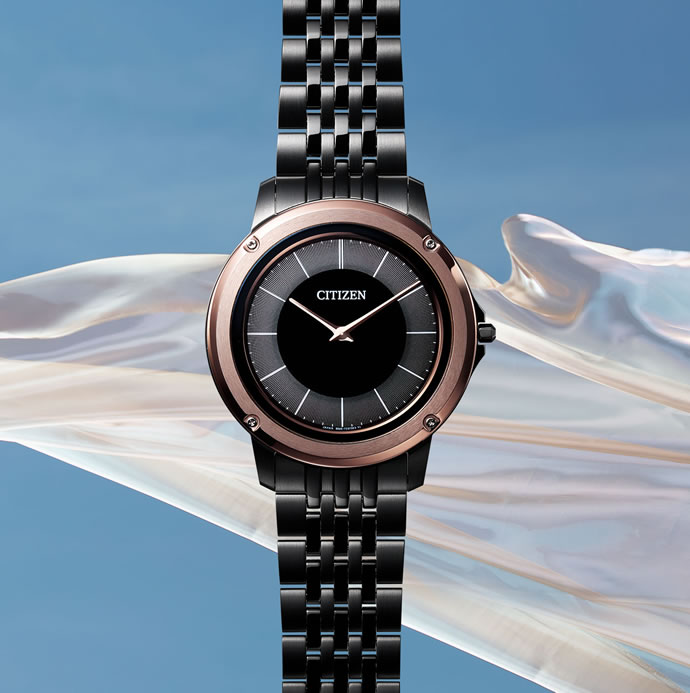 May 29, 2020
Citizen Watch Announces Limited Edition of Worlds Thinnest Eco-Drive Watch CITIZEN Eco-Drive One
by dhiram
Citizen watch today announced limited edition launch of worlds thinnest 1mm thick photovoltaic power generation eco-drive movement  watch CITIZEN Eco-Drive One. The Super Titanium Duratect DLC limited model (AR5035-55E) will be available in Japan from June 18 for 530,000 yen ($4945), limited to 200 pieces only. The case and band of the limited edition Citizen Eco-Drive One, has been subjected to Duratect DLC processing for the first time. Duratect DLC is a surface hardening technology that is resistant to scratches and features a smooth and beautiful glossy black color.
DLC is an abbreviation for "Diamond-Like Carbon," a technology with excellent wear resistance that is also used in industrial products. DLC does not come off easily and has excellent durability. It has a hardness of 1,000 to 1,400 Hv, while the Vickers hardness of stainless steel is about 20 Hv. The 85 parts of the movement are handed over to the highly skilled craftsmen of Citizen for fine tuning. Only a highly skilled craftsman can achieve the ultimate thinness while adopting a new assembly method that he has never experienced.
The design features a function and a gorgeous decoration, and a 3.5 mm thick (designed value) black color case with a contrast of pink gold on the dial. The dial is made of sapphire glass and has a geometric pattern; user can enjoy the change of facial expression depending on the viewing angle. CITIZEN Eco-Drive One watch is Thinness beyond imagination and is comfortable to feel neither gravity nor stress.
Equipped with the world's thinnest 1mm (design value) eco-drive movement as an analog photovoltaic watch, the drive time is 12 months from full charge while maintaining thinness. The glass is 150 micron sapphire glass with 99% clarity coating. The movement is Cal. 8826. Waterproof everyday life. The external dimensions of the watch is 36.5 x 3.5 mm (outer diameter x thickness).