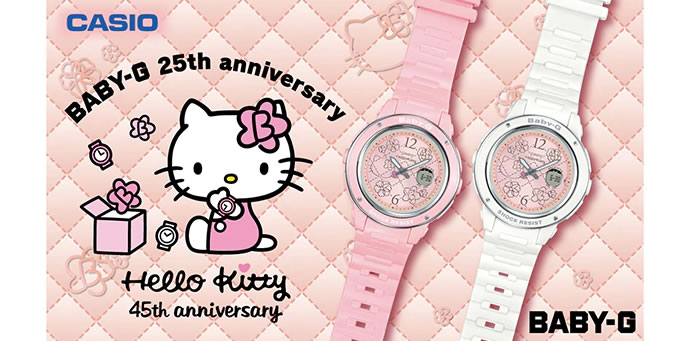 February 18, 2019
Casio to Release BABY-G Hello Kitty Pink Quilt Series Collaboration Model
by Dhiram Shah
Casio will release a special collaboration model the BGA-150KT with Hello Kitty, a character created by Sanrio, in its BABY-G line of women's shock-resistant watches. The new model is inspired by the Hello Kitty Pink Quilt Series, which trended among young women in Japan in the 1990s, when the BABY-G brand made its debut. The BGA-150KT is a collaboration model between Hello Kitty, who turns 45 this year, and BABY-G, which is marking 25 years since its introduction.


The new model BGA-150KT is based on the BGA-150, whose elegant design features a large round face and metal pieces. The dial of the new BGA-150KT features a quilt-stitch pattern taking after the Hello Kitty Pink Quilt Series that was popular in the 1990s. The special collaboration modelBGA-150KT is water resistant up to 100meters and features world time, stopwatch and 5 daily alarms. Other functions include: – Full auto-calendar (to year 2039), 12/24-hour format; button operation tone on/off; LED light with afterglow: selectable illumination duration (1.5 seconds or 3.0 seconds).

The watch features flower-shaped metal pieces that evoke the Hello Kitty of the 1990s while giving it a grown-up look. To celebrate the anniversaries of both brands, the letter "B" for BABY-G is part of the flower on the dial at the 5 o'clock position (25th minute), while Hello Kitty's face adorns the dial at the 9 o'clock position (45th minute).


The case back is engraved with a special drawing of Hello Kitty wearing a watch and adorned with a flower featuring the letter "B" for BABY-G. The packaging for this special model includes an exclusive mini-bag designed in the style of the original Pink Quilt Series from the 1990s, and a stand for displaying the watch.