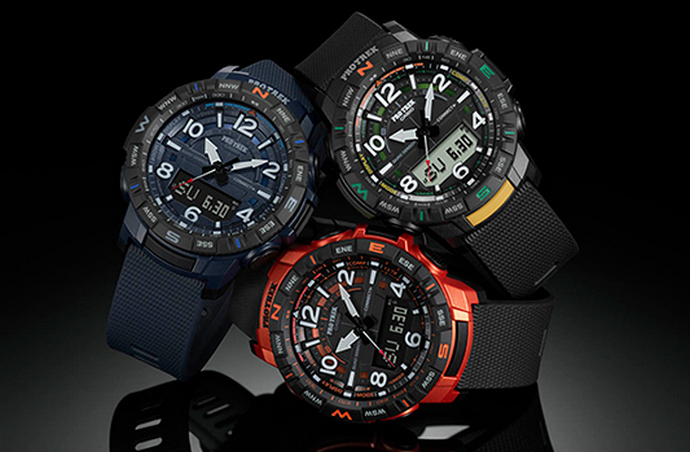 August 2, 2019
Casio Announces PRO TREK Out Door Watches with Quad Sensor and Smartphone Link Functions
by Dhiram Shah

Casio today announced the PRT-B50 and PRT-B50FE, its latest addition to the PRO TREK line of outdoor watches. The Casio PRT-B50 and PRT-B50FE are the first PRO TREK models with quad sensor and Smartphone Link functions. The new PRT-B50 and PRT-B50FE watches are equipped with quad sensor — three sensors that detect compass bearing, barometric pressure/altitude, and temperature, plus an accelerometer for counting steps.



For optimum readability, the PRT-B50 and PRT-B50FE have a wide watch face that incorporates a large, rotating bezel and Arabic numeral indices. The new models have been designed for ease of use in a wide range of outdoor activities, with a urethane band that features a 3D texture throughout and a strap keeper that stays in place. They also come with Smartphone Link functions, linking to the PRO TREK Connected app on a smartphone using Bluetooth to offer a host of functions that support outdoor activities.


These include a location indicator that shows the direction and distance to a destination saved to the app, automatic time adjustment, tracking of calories burned, which is calculated based on step count and altitude data, and trekking logs. For improved usability, the user can set the watch modes from the app, including turning modes on or off, and changing the sequence in which modes appear on the display. The new Casio PRO TREK Out Door Watches will be available in Japan from September 6 in Japan. Price starts from 30,000 yen ($280)plus tax.
Click here for PRT-B50 and PRT-B50FE Specifications.