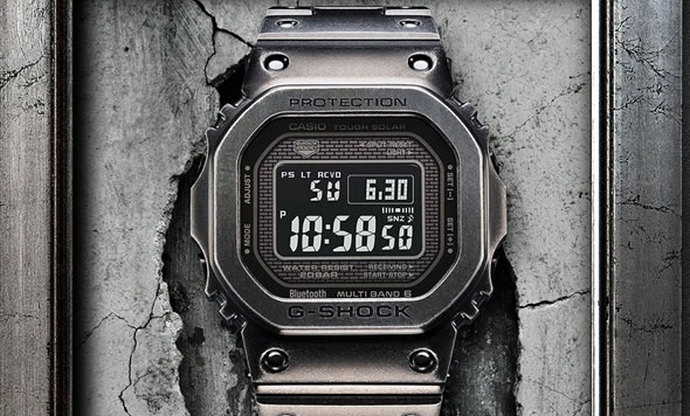 May 15, 2019
Casio Announces Full Metal G-SHOCK Watch with an Aged Finish
by Dhiram Shah

Casio announced today its latest addition to the G-SHOCK line of shock-resistant watches- GMW-B5000V with an aged finish is based on the full metal construction GMW-B5000D with a square shape. The Casio GMW-B5000D base model was originally released in 2018 and inherits the square shape of the first G-SHOCK while featuring a full stainless steel outer construction.



The new GMW-B5000V is a special model that reproduces the unique look of a watch that has been used for many years. The case and band are finished with black ion plating, which is partly removed to yield a distinctive, well-used look. The application of an aged finish to a constantly evolving G-SHOCK masterpiece evokes the toughness of a timepiece that continues to survive and stand the test of time.


The Casio GMW-B5000V also comes with special packaging in colors that match the theme of the watch. The GMW-B5000V is equipped with the same features as the GMW-B5000D base model; with Bluetooth low energy connectivity, reception of radio wave time-calibration signals and 5 daily alarms (with 1 snooze alarm). The watch also delivers superior practicality with features such as a high-luminosity full auto LED backlight and 5 world times selected from 39 cities (39 time zones, daylight saving on/off).