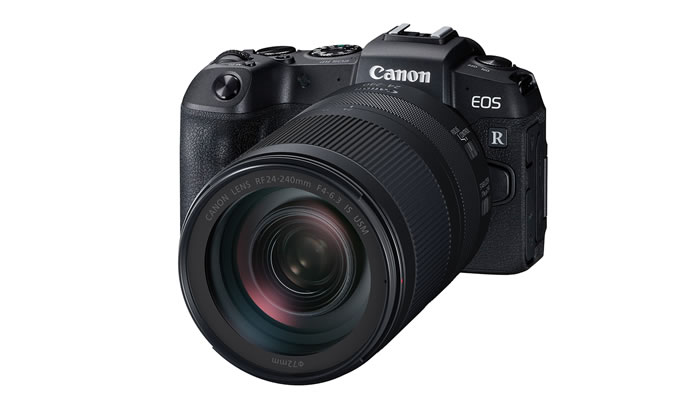 July 9, 2019
Canon Announces Its First RF Telephoto Zoom Lens for EOS R and EOS RP Full-Frame Mirrorless Cameras
by Dhiram Shah

Canon today announced the sixth lens in the RF family, the RF 24-240mm F4-6.3 IS USM telephoto zoom lens. As the first telephoto zoom lens designed for EOS R and EOS RP full-frame mirrorless cameras, the compact and lightweight 10x zoom RF 24-240mm provides photographers high-quality images and video capture at a budget-friendly price point.



This is the first Canon lens designed for full-frame cameras to feature Dynamic IS and utilizes a CIPA-standard, five-stop image stabilization system. The five-stop IS allows photographers to capture images and record videos with a minimal shake, even during nighttime sightseeing or in dimly lit indoor events, without the need of a tripod. The Canon RF 24-240mm F4-6.3 IS USM lens is equipped with Nano USM, providing users quick, high-speed and precision auto focus (AF) when shooting video and capturing still images. With the powerful Nano USM, this lens allows photographers and videographers full-time manual focusing on making possible the fine-tuning and adjusting of focus while in AF mode.

When paired with the recently announced EOS RP full-frame mirrorless camera, the compact and lightweight portability of the RF 24-240mm rivals that of a Canon APS-C camera system with a comparable EF-S lens. The diminished form factor of the new lens and EOS RP together, as compared to other full-frame mirrorless camera systems using a similar focal-length telephoto zoom lens, make the lens and camera the ideal kit for travelers who are constantly on the go.


The Canon RF 24-240mm F4-6.3mm IS USM lens is scheduled to be available September 2019 for an estimated retail price of $899.99. In addition, Canon will offer a new EOS RP kit that includes the RF-24-240mm for an estimated retail price of $2199.00