January 8, 2015
Bang & Olufsen Launch BeoPlay H8 Wireless Headphones with Touch Based Controls Built-in
by Shayne Rana
In the news again at their CES 2015 booth, Bang & Olufsen have yet another innovation to share with their audiophile audience. In addition to their recently announced B&O Moment,a beautifully crafted, but slightly quirky home entertainment system, their latest addition is to their B&O PLAY series; enter the BeoPlay H8 wireless headphones, complete with a touch based interface built right in to the earpiece. Aside from 14 hours of battery life and Active Noise Cancellation technology (can be switched on or off), these lightweight and rather slick looking headset features an innovative aluminum touch interface that lets you use gestures like swiping or tapping on the ear cup to control various functions of playback (skip tracks, adjust the volume etc.), answer calls and more.


The BeoPlay H8 is an on-ear set of headphones. Housing all the above mentioned features, the BeoPlay H8 also allows you to plug in a cable to conserve battery life or use it as an alternative should your battery die mid-play. The H8 will be available in Gray Hazel and Argilla Bright colors and is crafted from premium materials such as anodized aluminum, cowhide leather and smooth lambskin. Designed by the award-winning Danish industrial designer Jakob Wagner, it weighs in a just 255g. All functionality is fully usable even with your gloves on.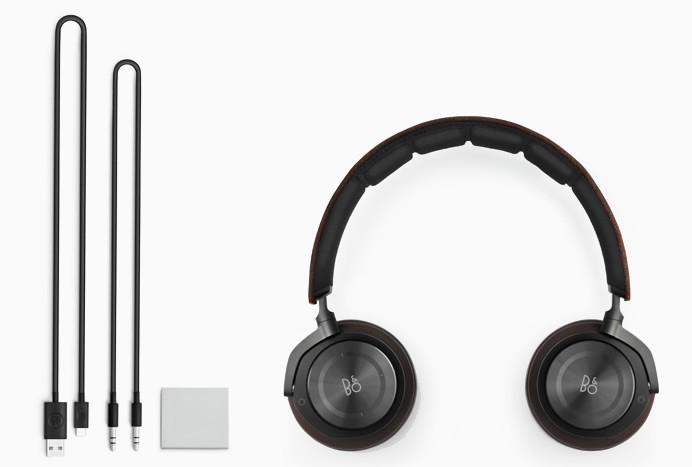 "With BeoPlay H8 we have taken decades of craftsmanship and innovation and distilled that into one truly amazing product that highlights the B&O PLAY virtues," says Henrik Taudorf Lorensen, Head of B&O PLAY, and continues, "it is technologically advanced featuring Active Noise Cancellation, Bluetooth 4.0 and an aluminium touch interface never seen before. Combined with the acclaimed Bang & Olufsen Signature Sound, premium materials and the low weight it is not just another headphone on the market, it is simply one the best product of its kind."
BeoPlay H8 is priced at $499 (US) and will be available at Bang & Olufsen stores, the B&O PLAY online store and selected third party retailers from sometime in January 2015.