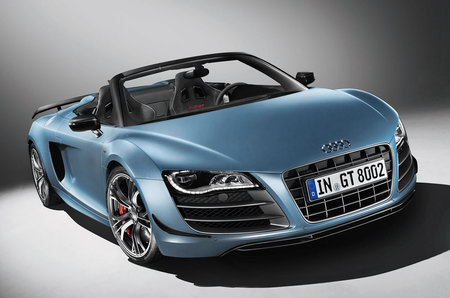 June 3, 2011
Audi R8 GT Spyder Supercar Officially Announced
by ruchi

Audi has finally lifted the wraps off its much awaited R8 GT Spyder, the new V10 powered convertible that promises to deliver breathtaking performance. Crafted out of lightweight materials, the German automaker has made this convertible pull down as much 85kgs. The use of Carbon Fiber Reinforced Plastic is largely responsible for this feat. This one differs from the dual-lip front spoiler owing to presence of carbon fiber winglets on the front bumper, round tailpipes, a larger rear diffuser and dark LED taillights.

This one is top-of-the-line model in the R8 family and its performance is indeed formidable. The 5.2-liter V10 with an aluminum crankcase draws its fuel from an FSI direct injection system. The long-stroke engine delivers 540 Nm (398.28 lb-ft) of torque at 6,500 rpm, and its peak output is 412 kW (560 hp). Each unit of horsepower has only 2.93 kilograms (6.46 lb) to move.
Audi will be making only 333 units of this convertible and although an official price tag for the American roads is yet to be announced, we're assuming this would probably hover somewhere around the Euro price tag which translates into over US$300,000.


[Autoblog]