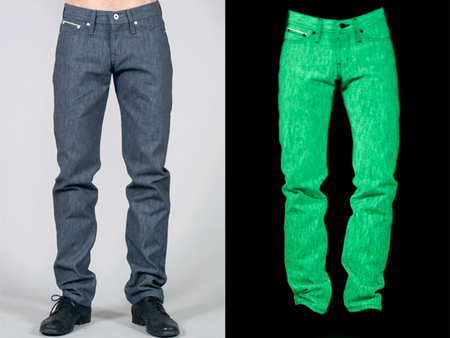 August 4, 2011
Are you game for Glow in the Dark jeans?
by Gareth Mankoo
Whatever the bug that bit you be, you surely wouldn't lose it to a level where you'd like to take your jeans to a glow in the dark level. Yet, those who pick the Naked & Famous Glow in the Dark jeans would
love to disagree. They have no hope of turning back to the normal world and well, for kicks, it's good to know they're around to make the world a little more colorful. The jeans have a phosphorescent coating that absorb light and do what you already may have guessed. Additionally, they're a Japanese discovery so there will be a fair deal of genius in ever stitch in the design.


It would be awesome to have parts and patches of the jeans wear off, to bring some life into your garb. The price is yet to be announced.
Gizmodo