September 11, 2013
Apple iPhone 5S vs Samsung Galaxy S4 vs Nokia Lumia 1020
by Sayan Chakravarty
The wraps are finally off. Apple, for the first time, has released two smartphones simultaneously, but no surprise there. Once again, massive leaks leading up to the Apple's event gave away all the information. Mostly originating from China, the leaks were dead accurate. Radical departure from Apple's original path, the budget iPhone 5C is finally here. Primarily made for China, shockingly iPhone 5C isn't that cheaper, but just a tad lower in price than a much better 5S which was launched along with it. iPhone 5C will be available in 5 different colors, and that's about it, it's nothing but a iPhone 5 with a plastic cladding. Otherwise, everything is the same. So, there's no point comparing it.


The new iPhone 5S, however, has a few new upgrades from iPhone 5 which Apple has decided to discontinue. We're itching to get our hands on it, but till then let's compare it with Samsung Galaxy S4 and Nokia Lumia 1020 to find which one's the best buy.

Size
Believe it or not, iPhone 5S measures exactly the same as the old iPhone 5, not complaining though. It weighs the same at 112g which is lighter than Galaxy S4 which weighs 130g. But, there is a rising trend of bigger smartphones and this is where Galaxy S4 scores big. The weight to screen size ratio is the best for Galaxy S4. Nokia Lumia 1020 is the heaviest of the three and yet the display on it measure 4.5 inch which is right in the middle of iPhone 5S and Galaxy S4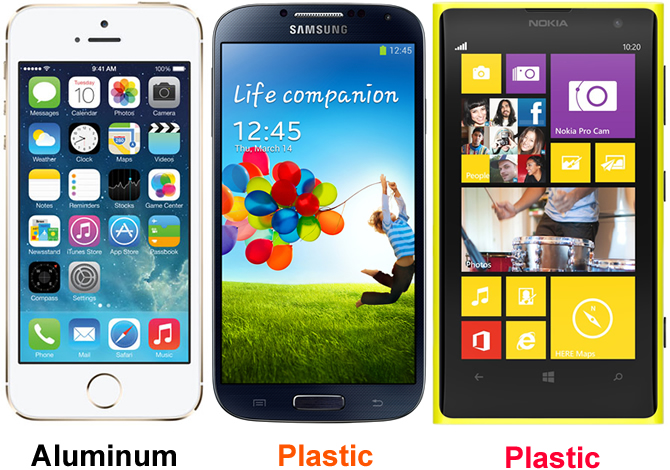 Build
Thankfully, iPhone 5S didn't get the plastic body and sticks to anodized aluminum finish. Though, it'll be available in different colors including gold, space grey and silver. The addition of champagne gold is a great move and it looks absolutely classy. The build quality of Apple is unparalleled and this is where it absolutely obliterates any competition. There are very few takers for the plastic body of Nokia Lumia 1020 except China and it comes behind iPhone 5S and Galaxy S4 in terms of build quality.

Processor and other specifications
The most notable change in the new iPhone 5S is its new A7 processor with 64-bit architecture. Apple claims that it's twice as fast as the outgoing iPhone 5 which has got us intrigued. Though we can comment on it with authority only when we review the 5S, but it's making all the right noises! Samsung Galaxy S4 and Lumia 1020 aren't slow smartphones, they have razor sharp processors, but 5S with iOS7's support should perform better. Apple has also fitted a new M7 coprocessor which will aid all the motion processing. It'll help the apps which use gyro sensors to perform better. Apple never divulges any information on iPhone's RAM but we're expecting to be the same as on iPhone 5 which is buttery smooth. Internal storage for iPhone 5S and Galaxy S4 are the same at 64GB for the top version, but Galaxy S4 comes with expandable memory which is an added advantage. Lumia 1020 has an internal storage of 32GB (non-expandable).

Camera
Nokia Lumia 1020, at least, promises to sport the best camera out of the three. It has a massive 1/1.5 inch sensor aided with Carl Zeiss optics and is capable of shooting 41 MP pictures. Camera is the USP of Lumia, so it ought to be good. Samsung Galaxy S4 has a decent 13 MP shooter on the rear but performs poorly in low light. Apple iPhone 5S has got an upgrade in camera hardware with a better and bigger sensor. Though it'll still click 8 MP pictures, but along with new dual led (true tone), it should click better shots.

Software
iOS 7 was launched along the two new iPhones and it was specifically coded for 5S's 64 bit architecture. What it means is, now it'll be even faster than before yet staying amazingly reliable. Galaxy S4 runs on Android 4.2 but is expected to get an S/W update soon. Windows 8 operating system isn't that bad but still doesn't have the app base similar to Android and iOS. Now that Nokia has been acquired by Microsoft, we are expecting a lot of good things but till then it can't match up to the two market leaders.

Hardware
There has been a minor improvement in the battery performance of the new iPhones, but as usual Apple is tight lipped about the specification. Battery performance is the Achilles heel of Galaxy S4 and it runs out of juice pretty easily. The biggest addition to the new iPhone 5S is a biometric ID sensor which replaces the old centre button. The fingerprint reader is a killer feature and isn't gimmicky the way thought it might turn out to be. The need of punching in security codes to unlock the device has been replaced by a simple tap on the round sensor, bloody brilliant!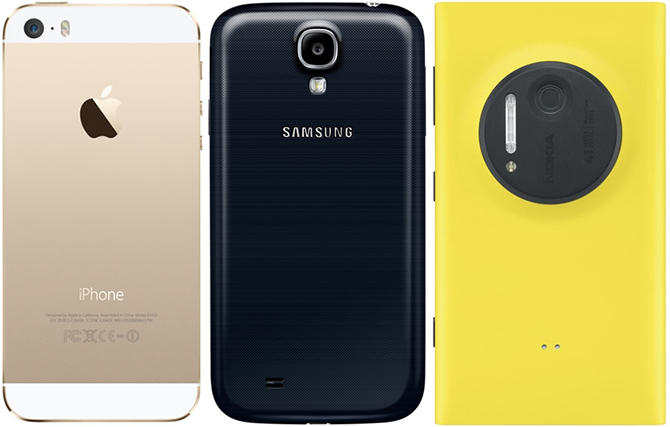 Verdict
A full hands-on review of the iPhone 5S is needed to give the final verdict but the initial impression is pretty good. It's not too different than iPhone 5 but the few upgrades add up to make it better. The gold colored 5S really looks great and should become a popular choice. If you need a smartphone with bigger screen size, then Galaxy S4 has to be the clear choice but otherwise it's a tough choice between the two. The new fingerprint sensor is a nifty little feature. Nokia Lumia 1020 on the other hand doesn't match up to the two. It has a lot of catching up to do.