October 23, 2013
Apple finally refreshes the iPad; The new iPad Air is thinner, lighter and faster than ever
by Shayne Rana
Slim is always in and Apple has never been one to deviate from trendsetting. At their recent event among a slew of announcements, was the launch of their next generation iPad i.e. the iPad Air. Needless to say, the name should pretty much give you all the necessary details you need with regards to the look and feel of the device, but who are we to keep all the awesome specs to ourselves; so here's what you can expect from the all new iPad –


The iPad Air is the next version of the iPad but its design looks very similar to what we saw in the iPad Mini. It's just 7.5mm in depth making it much slimmer than the last one and it weighs in at just one pound, all of it in the same typical aluminium unibody shell. So not only is it 20% thinner than it's predecessor it's also 28% lighter. Apple seems uninterested in altering the screen size and even though the iPad Air has a thinner bezel than previous editions, it still retains the 9.7-inch touchscreen. Naturally it's a Retina Display (2048×1536 resolution, over 3.1 million pixels), can't have any more iPads without that.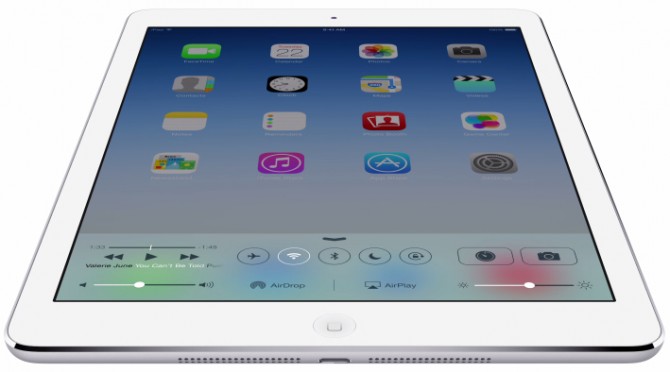 Apple's 64-bit A7 processor coupled with their M7 motion coprocessor that we've seen functioning on the iPhone 5S are on board to speed up graphics and overall performance. iOS 7 is of course, preloaded with the new iPad Air. MIMO 802.11n support should help enhance data transfer speeds over WiFi considerably. Last but not the least is the inclusion of a 5 MP iSight camera along with a forward facing HD camera for FaceTime. And the best part is, even though the iPad Air is so much thinner and lighter, Apple is claiming it will still deliver 10 hours of battery. Apps like GarageBand, Numbers, Keynote, Pages, iMovie and iPhoto will be preloaded along with iCloud support, Air Drop, Air Play and Air Print capabilities.


The iPad Air will be hitting quite a few countries in its initial launch where pricing will start at $499 for the WiFi only model and $629 for the LTE edition. It starts shipping from November 01st. The iPad Air will be available in silver/ white and space grey/black color options. It's been a very long time since we've seen Apple bring on a new look to their popular tablet device. The iPad 2 was the last and since then the tablet has been touting similar design specs. But this is, thankfully, a truly refreshing change.
[Via – Apple]