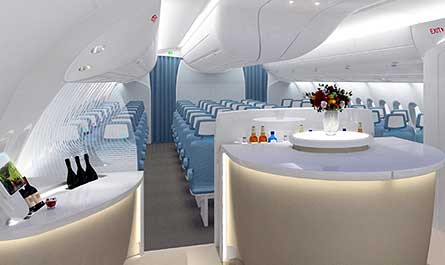 16 comments
March 17, 2006
Airbus A350 with BMW interiors
by Dhiram Shah

Do you wonder how the geniuses at BMW can fit tons of gadgets and provide the ultimate driving experience. Imagine how they would transform your air journey. Airbus will unveil its new A350 twinjet at the Aircraft Interiors Expo 2006 exhibition in Hamburg next month that will feature opulent interiors by BMW. The cabin will feature a number of new features, as Airbus seeks to counter the new concepts introduced by Boeing in the cabin of the rival 787 twinjet. It is unclear the exact extent of the German automotive company's participation in the new interiors.
Note – The new design is the fruit of a co-operation between Airbus design teams in Hamburg and Toulouse and London-based design firm Priestman Goode and not BMW.
"There are new lighting features and shaping in the
cabin," says A350 chief engineer Dougie Hunter. "We can project onto the
ceiling whatever is appropriate for the mood required – for example the
night sky or clouds etc." Hunter says that a concept around the door two
area has a bar area and seating for economy.
"In the entrance area there is a dome that that gives us the feeling of
spaciousness or openness in the cabin and configured for whatever mood
you want to generate," Hunter says.
Airbus has also improved the overhead bin design to increase their volume.
"The number of bags that can be accommodated in the centre bin of the
business area will be two standard roller bags per passenger," says Hunter.
"The economy bins can take one standard roller bag per passenger."
Source
The Airbus A350 cabin features various mood lighting settings
to transform from daytime to nighttime
The cabin at night time
The overhead bins for the A350 will fit two roller cases
per passenger for those travelling in business class and one per passenger
for those in economy, Airbus says.