June 14, 2019
Air-sofa that inflates in about 90 seconds with a smartphone announced
by Dhiram Shah

Cloudfunding Makuake announced an inflatable Nylon Fabric Air Sofa –AirThrone for Outdoor Camping and Beach. The Air sofa inflates in about 90 seconds with a smartphone. Air sofa comes with a powerful small electric pump, which uses very less power to inflate the Air sofa. When a smartphone or mobile battery is connected, the pump automatically operates, and the sofa is inflated in about 90 seconds. No need for any app. The electric pump operated with a sound similar to a hair dryer and supports lightning cable (iPhone), micro USB cable, USB Type-C cable. 



The power consumed for inflating Air sofa one time is about 60 mAh. Fully charged iPhone XS will consume about 2% of its power. User can also adjust the comfort by deflating the air. By opening the flap at the bottom of the sofa, air escapes at a stretch. It is also possible to pump air with a manual pump etc.


Air Throne is made from Ripstop fabric, woven fabrics made of nylon, using a special reinforcing technique that makes it resistant to tearing and ripping. Due to this Air Throne can be used in the middle of the mountains or in rocky places as well as in beach and poolside. Ripstop nylon is also used in parachutes, military uniforms, and climbing equipment, and is characterized by its light weight, wear resistance, tear strength, and high water repellency.

Two people can sit and relax on the Air Throne as it can take weight up to 200 kg. High airtightness is achieved by a double-stitch method and PU sealing tape. Air Throne is available in two sizes and three colors – gray / magenta and turquoise. The normal type measures 900 x 1,200 x 900 mm (width x length x height) and weighs 730 g with the air pump and the large type is 770 g at 900 x 1, 880 x 900 mm (same). They cost inclusive of tax 7,200 yen ($66) and 8,700 yen ($80). They carry six months warranty.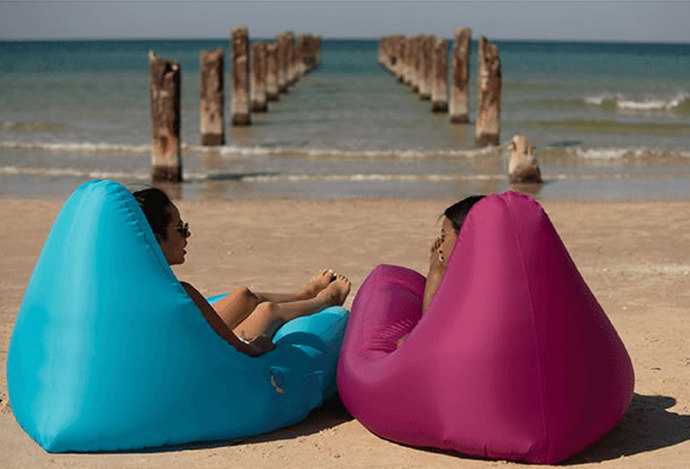 [Va:Kaden.Watch]