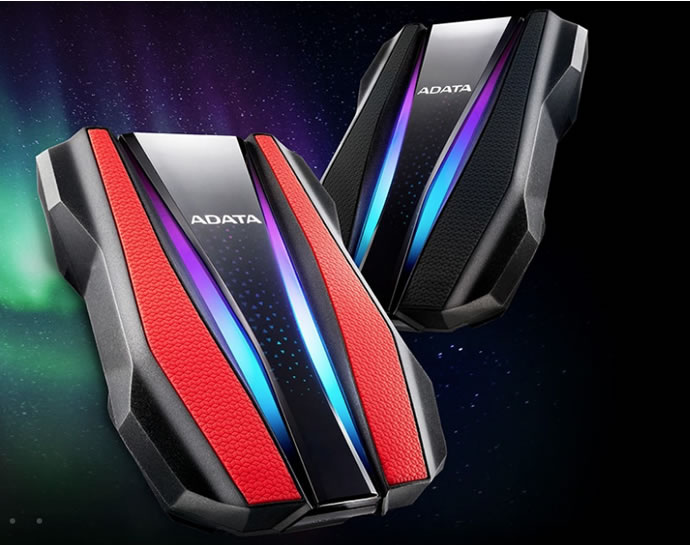 August 1, 2019
ADATA Announces Worlds First External Hard Drive with RGB Lighting
by Dhiram Shah

ADATA today announced the world first durable external hard drive HD770G with RGB lighting. With the ADATA HD770G, users can not only store all their games and data, but store them with flair. The HD770G exceeds the IP68 standard as it is waterproof and dustproof as well as shock-resistant with its robust triple-layer construction. The HD770G is designed to be tough like a warrior! Meeting the MIL-STD-810G 516.6 standard, this external HDD can survive nasty falls from up to 1.22 meters, protecting everything stored inside from harm.



The ADATA HD770G sports a design like no other external HDD thanks to its distinct chamfered edges and two light-beam-shaped RGB strips that'll show off users' personal flair. In between the two light strips is a centerpiece that features a perforated pattern that comes to life as the RGB lighting pulsates. With plenty of storage capacity, users can carry all their games or supplement the limited storage on their PS4 or Xbox console. Not only is the HD770G great for console gaming, but also great for PC gaming too.


The HD770G offers the ultimate protection against dust and water that goes beyond the highest-level IP68 standard. In particular, the HDD is waterproof to the point where it can withstand 120 minutes submerged in 2 meters of water. Unlike the cumbersome port covers found on other external HDDs, the HD770G's patented port covers plug in with ease to provide hassle-free protection from water.


With a robust triple-layer construction that consists of a shock-absorbing silicone casing, sturdy buffer, and a cushioned mounting for the hard drive, the HD770G can handle knocks and drops with ease. On the inside, AES 256-bit encryption keeps data password-protected and away from prying eyes.