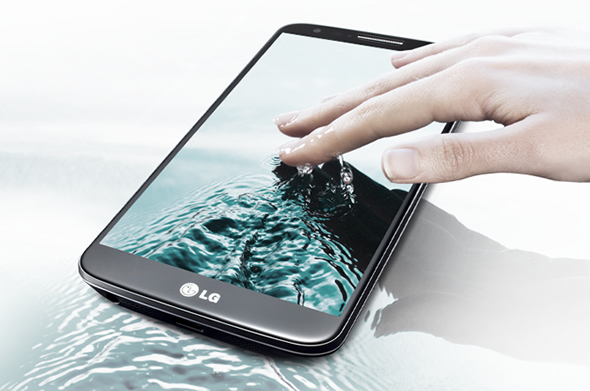 August 8, 2013
A quick look at LG's G2 Android Smartphone
by Shayne Rana
After almost deciding to get out of the mobile game, LG has made a rather significant comeback with their G-Series smartphones. Their latest, the LG G2, officially unveiled to the world very recently, has shown tremendous promise of being a handset that will be hard to beat. Here's a quick run down and my take on the key aspects of the new smartphone, the LG G2.


A cool new design or is it simply the 'same old, same old' form?
Staying true to today's new norm of the large-screen smartphones, the G2, with its almost edge to edge 5.2-inch True HD-IPS + LCD capacitive touchscreen (1080 x 1920), is not as conventional as it looks. Sure it's a tad larger and thicker (8.9mm in depth) than the Samsung Galaxy S4, but the lack of a button and larger screen does make it look a little classier. That and the fact that Samsung refuses to alter their core design aesthetic, makes the G2 a welcome sight. Like the S4, the G2 also features Corning Gorilla Glass 3 for screen protection.
What sets this handset apart from the crowd are the control keys positioned in the rear just below the 13MP camera's lens and LED flash. I haven't actually held the device yet; nevertheless the idea of rear placed buttons looks like a great play especially when it comes to handling larger devices. A volume rocker of sorts and power/sleep in the center make up the rear panel switches. These also double up for other functions like accessing the camera and the Quick Memo feature.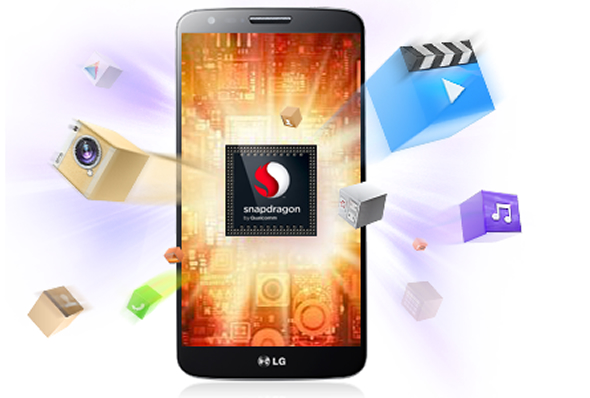 What's under the hood…
With the aid of Qualcomm's Snapdragon 800 processor of the Quad-Core variety clocking in at 2.26Ghz, the LG G2 is not going to be just a smooth functioning device. If it's anything like the G Pro, the experience should be quite fluid and app access and functioning should be sublime. Powering up the graphics is an Adreno 330 GPU that would keep gaming on the cutting edge of mobile technology. All this comes with 2GB of RAM as the cherry on top. Infra Red is making a big come back and the LG G2 is also on board with this hardware with corresponding apps I'm sure and probably easier control for LG Smart TV tech as well.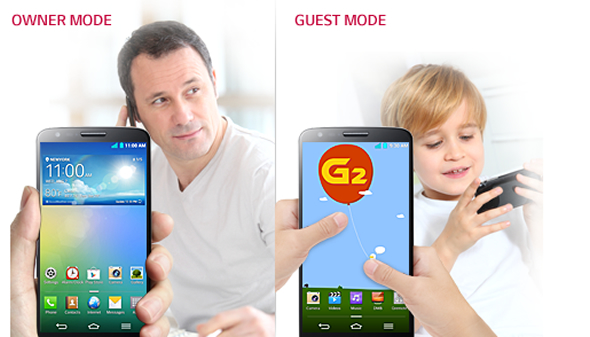 A few key new UI additions to spice things up
I've not been a big fan of LG's customised Android UI but the few additions that came in with the newer handsets do have interesting features. Some of the newer additions running on top of Android 4.2.2 Jelly bean (out of the box with an imminent update) include a double tap on the display to wake the handset, and a tap to turn it off again. It will also have an auto answer feature that will answer up a call as soon as you raise the device to your ear which is quite handy.
The G2 will also feature a Guest Mode so others can also use your handset without being able to access your secure data. Think of it as a sort of Kid Mode like Nokia has with their Windows 8 Lumia series devices. Another great feature is the 3 finger swipe across the screen for minimizing current apps. Even the simple screen capture utility has been upgraded to include entire web pages or long emails without the inhibition of including just what you see on the screen.
The company has also worked on the audio aspects with the addition of Dolby's mobile sound enhancement technology capable of throwing Hi-Fi 24 bit/192kHz. Not that LG had any major issues with audio seeing as they've been tied to Dolby for a long time now. But here's something a little more interesting regarding audio, word is that LG has also teamed up with the famous Vienna Boy's Choir to add a little flare to their ringtones. The addition of dual microphones on the handset should also ensure clear conversations.
Aside from the 13 megapixel primary shooter that also has quite a few features and settings to offer including optical image stabilization and full HD video recording @60fps, a secondary 2.1MP forward facing camera is also on board. The latter is also capable of recording full HD videos.

What do we have for connectivity?
There's nothing that's out of the box here in terms of connectivity. As high end smartphones go, the G2 offers nothing new but doesn't leave anything out either. It comes fully equipped with the latest generation LTE-A connectivity (up to 150Mbps), dual-band Wi-Fi with all the trimmings – Wi-Fi Direct, DLNA, Hot Spot. There's also Bluetooth 4.0, IR, TV Out via MHL, USB Host and OTG and of course GPS with AGPS support and GLONASS.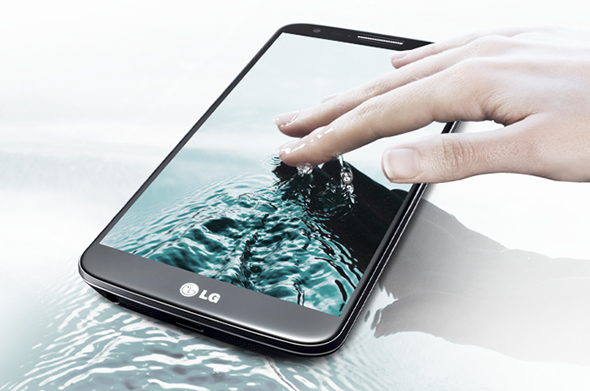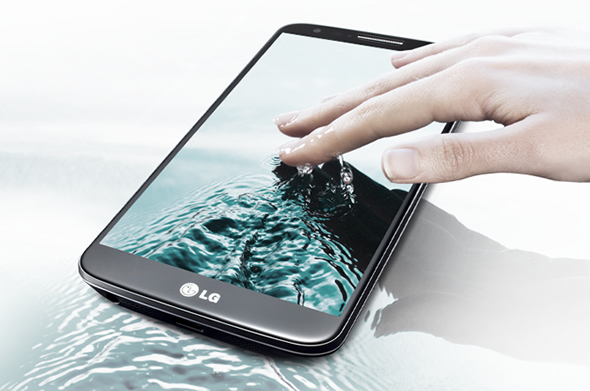 The Bottom Line
The G2 has made quite an impression as far as specifications are concerned. As ergonomics go, the G2 looks great on paper and in its pictures. With a 3000mAh battery to power this device, one could expect some pretty reasonable if not better than average usage. It's going to be made available in 2 basic colors – Black and white and will hit 130 carriers (and more). It'll be making its way to its home shelf of South Korea initially, followed by North America, Europe and other major markets all with the span of the next couple months. It looks like the Galaxy S4 just got some serious competition and Samsung will have to bring their A-Game to the next round.