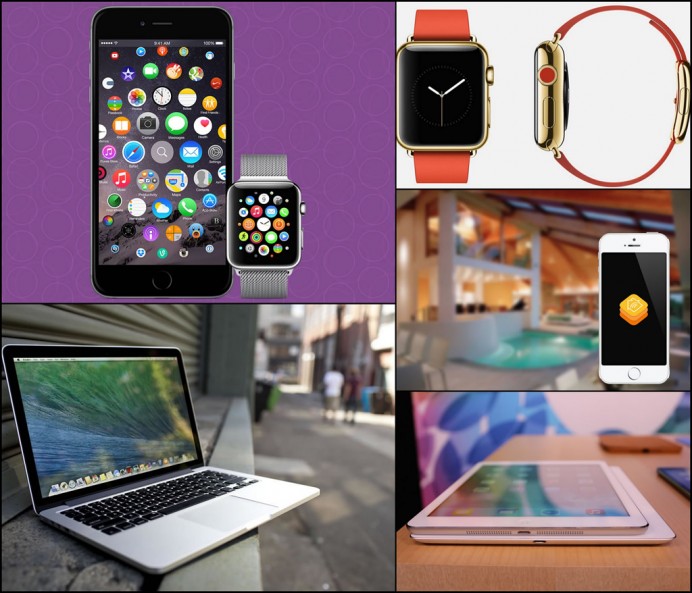 January 30, 2015
5 Upcoming Announcements Expected from Apple This Year
by Shayne Rana
There's always something exciting about an Apple announcement. Even hardcore Android users wait curiously to find out what Apple's next generation tech will bring to the table just in case they decide to leave the fold for something a little more "sophisticated". But Apple bashing aside, they have been major innovations from the Apple camp and natural progression dictates that they up the ante the next round. Based on announcements, unveilings and some "not so speculative" rumors, here's our list of 5 announcements and official launches we want to hear from Apple in 2015:-


Apple Watch
It's not just a smart looking piece of hardware but as far as software goes we're expecting quite a lot from the device. The Stainless Steel, Sapphire Crystal encased device features a built-in heart rate monitor and although features are still to be officially announced, incorporations like Apple Pay functionality and plenty of well designed and useful apps are sure to have the lines winding around the block; business as usual.
iPad Pro, iPad Plus
They made the iPad smaller, thinner, lighter, and even gave it a Retina Display that kept getting better, and just when you thought they can do no more, rumors have it that Apple is planning on launching a larger edition. Dubbed the iPad Pro or iPad Plus, there's been no concrete information on the actual display size of this semi-mythical device yet. We can expect it to look similar to the newer range of iPads (it's not like the design could go in a whole new direction unless it was a square or hexagonal).
iOS 9
Once again there will be high expectations from the next iteration of Apple's mobile iOS. It's expected to make its debut in June but benchmark scores have already been making the preview rounds and the scores look pretty good. Naturally, seeing as we're still months away from a final release, tweaks and bug fixes will be introduced into the final edition, and a few more fixes will indubitably be required even post launch. Apple's new programming language, Swift, might just help make apps a little better than they already are.
Thinner MacBook Pro
Next up is a slimmer MacBook Pro which we know is something all Mac professional users are sure to want. We know Apple is capable of delivering ultra slim devices that are designed to be just as functional as any of their competition in the market and it's time we see a thinner MacBook Pro which would certainly boost its portability amongst other things. We're not expecting something as slim as the Air but slimmer than what's available today at the very least seems quite doable, with a few upgraded specs of course, if that's not asking for too much.
More Apple Connected Apps and Features
Using the built-in HomeKit functionality that's already part of the iOS8 makeup, we're sure to see an increase in products that will be compatible. A wider array of Home appliances that support this feature are to be expected and added functionality for the app as well. Aside from HomeKit we also expect to see a rise in Apple Pay capabilities and vendors who will choose to embrace the new payment platform and take it to the next level. And post Apple's acquisition of Beats, we also await the iTunes subscription service of Beats Music to commence soon.